persbericht:
Hoogwaardig kantoormeubilair van Amsterdams grachtenplastic
Amsterdam, 6 november 2017 – Social enterprise Plastic Whale en meubelfabrikant Vepa kondigen vandaag een meerjarige samenwerking aan. Het doel van deze samenwerking is de ontwikkeling van een volledig circulaire kantoormeubellijn onder de naam Plastic Whale Circular Furniture. Het bijzondere meubilair wordt vervaardigd uit Amsterdams grachtenplastic en pakt daarmee direct het probleem van de plastic soep aan. Uniek aan het productieproces is dat Plastic Whale zelf de grondstof voor vervaardiging van de lijn opvist. De lancering staat gepland voor Q1 2018, details worden later bekendgemaakt.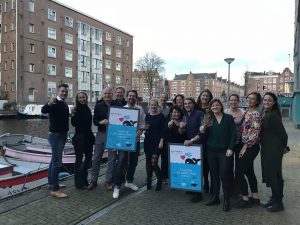 Sinds 2011 zet Plastic Whale zich in voor plasticvrije wateren. Dit doet de organisatie door economische waarde te creëren uit afval, met de betrokkenheid van zoveel mogelijk burgers, bedrijven en overheidsinstanties. Tot op heden heeft de organisatie vele tienduizenden PET-flessen uit het water gevist, die vervolgens werden geupcycled tot hoogwaardige designsloepen. Met diezelfde sloepen vist Plastic Whale nu naar plastic afval voor de vervaardiging van haar nieuwste product: een volledig circulaire kantoormeubellijn. "Veel bedrijven willen tegenwoordig naar het circulaire ondernemen toegroeien, of zich inzetten tegen de plastic soep. Met Plastic Whale Circular Furniture kunnen zij een concrete bijdrage leveren aan een schoner milieu én krijgen zij er uniek meubilair, gemaakt van plastic afval, voor terug. Dit jaar vissen we in Amsterdam naar verwachting ruim 40.000 PET-flessen op. Voor de productie van de meubellijn zijn echter veel meer flessen nodig. Daarom willen we onze pijlen nu ook op het buitenland gaan richten, waar de plastic soep een nog groter probleem vormt," aldus Marius Smit, oprichter Plastic Whale.
Impactvolle partnership Vepa
Voor de realisatie van de meubellijn heeft Plastic Whale een overeenkomst gesloten met kantoor- en projectmeubelfabrikant Vepa, die verantwoordelijk is voor de technische ontwikkeling, productie en distributie. "Vepa is Nederlands meest duurzame kantoormeubelproducent; een partner waar we heel trots op zijn. Vlak voor de zomer speelden we met het idee circulair meubilair van plastic afval te maken. Dankzij de samenwerking met Vepa wordt dit idee nu werkelijkheid. Samen kunnen we écht impact maken", zegt Marius Smit. Alle onderdelen worden zo geproduceerd dat ze aan het einde van de levensduur gedemonteerd kunnen worden om als nieuwe grondstof te dienen – met zo min mogelijk belasting voor het milieu. Plastic Whale en Vepa hebben designmerk LAMA Concept in de arm genomen voor de conceptontwikkeling van de meubellijn.
Algemeen directeur van Vepa, Janwillem de Kam vervolgt: "De samenwerking met Plastic Whale sluit nauw aan bij de duurzaamheidsdoelstellingen van Vepa. Circulariteit speelt een belangrijke rol bij de fundamentele verandering van productie zoals we die kennen – ook in de meubelbranche. Samen met Plastic Whale willen wij het voortouw nemen en laten zien dat die transitie naar een circulaire economie mogelijk is, zonder concessies te doen aan design en kwaliteit."
Lancering in 2018
Verwachting is dat de eerste reeks kantoormeubelen in Q1 2018 wordt gelanceerd.
Over Plastic Whale
Plastic Whale is de eerste professionele plastic fishing company ter wereld. Een social enterprise met een missie: 's werelds wateren plasticvrij maken. Dat doen wij door maatschappelijk bewustzijn te creëren voor het probleem, maar vooral door met zoveel mogelijk mensen actie te ondernemen en plastic te gaan vissen. En van het opgeviste plastic bouwen wij kwalitatieve producten. Zo varen er inmiddels negen designboten in Amsterdam en een in Rotterdam rond, die gebouwd zijn van Amsterdams Grachtenplastic. Binnenkort brengen we een volledig circulaire kantoormeubellijn op de markt. We hebben de ambitie om uiteindelijk 'out of business' te gaan door onze missie te behalen: overbevissing is in ons geval positief.
Plastic Whale is stadsdeelwinnaar van de DAM Prijs 2017 en strijdt vanaf 6 november door voor de stadsprijs, die wordt uitgereikt op 22 november. Voor meer informatie, ga naar plasticwhale.com.
Over Vepa
Sinds het ontstaan van Vepa in 1971 hebben we ons ontwikkeld tot één van de meest veelzijdige kantoor- en projectmeubelfabrikanten van Nederland. Veelzijdig, omdat we al onze producten voor 100% in onze eigen fabrieken in Nederland maken en daarmee zowel een breed assortiment aan producten, als klantspecifieke oplossingen realiseren. Daarin zijn we uniek. Ons ultramoderne machinepark geeft ons daarnaast de mogelijkheid voortdurend naar nieuwe circulaire oplossingen te streven. Maar dat is niet het enige. Het zijn vooral onze 140 collega's die Vepa zo bijzonder maken. Voor meer informatie, ga naar vepa.nl.
Over LAMA Concept
LAMA Concept ontwerpt hoog-kwalitatieve producten voor architectuur en interieur. We werken nauw samen met interieurarchitecten en voor productlabels. Onze collectie onderscheidt zich door duurzame, industrieel geproduceerde producten, met een ambachtelijke afwerking. Hiervoor ontwikkelen wij nieuwe materialen met een human touch. Alles wordt ontworpen in eigen studio en geproduceerd in onze werkplaatsen of door Europese fabrikanten. Hierbij worden verschillende technieken gebruikt, van low-tech vakmanschap tot 3d-printing. De experimentele en non-conventionele benadering van design en materiaal, en van textiel in het bijzonder, zorgen voor innovatieve en flexibele ontwerpen. Voor meer informatie, ga naar lamaconcept.nl.
top-right-radius: 2px; border-bottom-right-radius: 2px; border-bottom-left-radius: 2px; text-indent: 20px; width: auto; padding: 0px 4px 0px 0px; text-align: center; font-style: normal; font-variant-caps: normal; font-weight: bold; font-stretch: normal; line-height: 20px; font-family: 'Helvetica Neue', Helvetica, sans-serif; color: #ffffff; background-size: 14px 14px; background-color: #bd081c; position: absolute; opacity: 1; z-index: 8675309; display: none; cursor: pointer; border: none; -webkit-font-smoothing: antialiased; background-position: 3px 50%; background-repeat: no-repeat no-repeat;">Bewarentop-right-radius: 2px; border-bottom-right-radius: 2px; border-bottom-left-radius: 2px; text-indent: 20px; width: auto; padding: 0px 4px 0px 0px; text-align: center; font-style: normal; font-variant-caps: normal; font-weight: bold; font-stretch: normal; line-height: 20px; font-family: 'Helvetica Neue', Helvetica, sans-serif; color: #ffffff; background-size: 14px 14px; background-color: #bd081c; position: absolute; opacity: 1; z-index: 8675309; display: none; cursor: pointer; border: none; -webkit-font-smoothing: antialiased; background-position: 3px 50%; background-repeat: no-repeat no-repeat;">Bewaren
top-right-radius: 2px; border-bottom-right-radius: 2px; border-bottom-left-radius: 2px; text-indent: 20px; width: auto; padding: 0px 4px 0px 0px; text-align: center; font-style: normal; font-variant-caps: normal; font-weight: bold; font-stretch: normal; line-height: 20px; font-family: 'Helvetica Neue', Helvetica, sans-serif; color: #ffffff; background-size: 14px 14px; background-color: #bd081c; position: absolute; opacity: 1; z-index: 8675309; display: none; cursor: pointer; border: none; -webkit-font-smoothing: antialiased; background-position: 3px 50%; background-repeat: no-repeat no-repeat;">Bewarentop-right-radius: 2px; border-bottom-right-radius: 2px; border-bottom-left-radius: 2px; text-indent: 20px; width: auto; padding: 0px 4px 0px 0px; text-align: center; font-style: normal; font-variant-caps: normal; font-weight: bold; font-stretch: normal; line-height: 20px; font-family: 'Helvetica Neue', Helvetica, sans-serif; color: #ffffff; background-size: 14px 14px; background-color: #bd081c; position: absolute; opacity: 1; z-index: 8675309; display: none; cursor: pointer; border: none; -webkit-font-smoothing: antialiased; background-position: 3px 50%; background-repeat: no-repeat no-repeat;">Bewaren
top-right-radius: 2px; border-bottom-right-radius: 2px; border-bottom-left-radius: 2px; text-indent: 20px; width: auto; padding: 0px 4px 0px 0px; text-align: center; font-style: normal; font-variant-caps: normal; font-weight: bold; font-stretch: normal; line-height: 20px; font-family: 'Helvetica Neue', Helvetica, sans-serif; color: #ffffff; background-image: url(data:image/svg+xml; base64,phn2zyb4bwxucz0iahr0cdovl3d3dy53my5vcmcvmjawmc9zdmciighlawdodd0imzbwecigd2lkdgg9ijmwchgiihzpzxdcb3g9ii0xic0xidmxidmxij48zz48cgf0acbkpsjnmjkundq5lde0ljy2mibdmjkundq5ldiyljcymiaymi44njgsmjkumju2ide0ljc1ldi5lji1nibdni42mzismjkumju2idaumduxldiyljcymiawlja1mswxnc42njigqzaumduxldyunjaxidyunjmyldaumdy3ide0ljc1ldaumdy3iemymi44njgsmc4wnjcgmjkundq5ldyunjaxidi5ljq0oswxnc42njiiigzpbgw9iinmzmyiihn0cm9rzt0ii2zmziigc3ryb2tllxdpzhropsixij48l3bhdgg+phbhdgggzd0itte0ljczmywxljy4nibdny41mtysms42odygms42njusny40otugms42njusmtqunjyyiemxljy2nswymc4xntkgns4xmdksmjquodu0idkuotcsmjyunzq0iem5ljg1niwyns43mtggos43ntmsmjqumtqzidewljaxniwymy4wmjigqzewlji1mywymi4wmsaxms41ndgsmtyuntcyidexlju0ocwxni41nzigqzexlju0ocwxni41nzigmteumtu3lde1ljc5nsaxms4xntcsmtqunjq2iemxms4xntcsmtiuodqyideyljixmswxms40otugmtmuntiyldexljq5nsbdmtqunjm3ldexljq5nsaxns4xnzusmtiumzi2ide1lje3nswxmy4zmjmgqze1lje3nswxnc40mzygmtqundyylde2ljegmtqumdkzlde3ljy0mybdmtmunzg1lde4ljkznsaxnc43ndusmtkuotg4ide2ljayocwxos45odggqze4ljm1mswxos45odggmjaumtm2lde3lju1niaymc4xmzysmtqumdq2iemymc4xmzysmtauotm5ide3ljg4ocw4ljc2nyaxnc42nzgsoc43njcgqzewljk1osw4ljc2nya4ljc3nywxms41mzygoc43nzcsmtqumzk4iem4ljc3nywxns41mtmgos4ymswxni43mdkgos43ndksmtcumzu5iem5ljg1niwxny40odggos44nzismtcunia5ljg0lde3ljczmsbdos43ndesmtgumtqxidkuntismtkumdizidkundc3lde5ljiwmybdos40miwxos40nca5lji4ocwxos40otegos4wncwxos4znzygqzcunda4lde4ljyymia2ljm4nywxni4yntigni4zodcsmtqumzq5iem2ljm4nywxmc4yntygos4zodmsni40otcgmtuumdiyldyundk3iemxos41ntusni40otcgmjmumdc4ldkunza1idizlja3ocwxmy45otegqzizlja3ocwxoc40njmgmjaumjm5ldiylja2miaxni4yotcsmjiumdyyiemxnc45nzmsmjiumdyyidezljcyocwyms4znzkgmtmumzayldiwlju3mibdmtmumzayldiwlju3miaxmi42ndcsmjmumdugmtiundg4ldizljy1nybdmtiumtkzldi0ljc4ncaxms4zotysmjyumtk2idewljg2mywyny4wntggqzeylja4niwyny40mzqgmtmumzg2ldi3ljyznyaxnc43mzmsmjcunjm3iemyms45nswyny42mzcgmjcuodaxldixljgyocayny44mdesmtqunjyyiemyny44mdesny40otugmjeuotusms42odygmtqunzmzldeunjg2iibmawxspsijymqwodfjij48l3bhdgg+pc9npjwvc3znpg==); background-size: 14px 14px; background-color: #bd081c; position: absolute; opacity: 1; z-index: 8675309; display: none; cursor: pointer; border: none; -webkit-font-smoothing: antialiased; background-position: 3px 50%; background-repeat: no-repeat no-repeat;">Bewarentop-right-radius: 2px; border-bottom-right-radius: 2px; border-bottom-left-radius: 2px; text-indent: 20px; width: auto; padding: 0px 4px 0px 0px; text-align: center; font-style: normal; font-variant-caps: normal; font-weight: bold; font-stretch: normal; line-height: 20px; font-family: 'Helvetica Neue', Helvetica, sans-serif; color: #ffffff; background-image: url(data:image/svg+xml; base64,phn2zyb4bwxucz0iahr0cdovl3d3dy53my5vcmcvmjawmc9zdmciighlawdodd0imzbwecigd2lkdgg9ijmwchgiihzpzxdcb3g9ii0xic0xidmxidmxij48zz48cgf0acbkpsjnmjkundq5lde0ljy2mibdmjkundq5ldiyljcymiaymi44njgsmjkumju2ide0ljc1ldi5lji1nibdni42mzismjkumju2idaumduxldiyljcymiawlja1mswxnc42njigqzaumduxldyunjaxidyunjmyldaumdy3ide0ljc1ldaumdy3iemymi44njgsmc4wnjcgmjkundq5ldyunjaxidi5ljq0oswxnc42njiiigzpbgw9iinmzmyiihn0cm9rzt0ii2zmziigc3ryb2tllxdpzhropsixij48l3bhdgg+phbhdgggzd0itte0ljczmywxljy4nibdny41mtysms42odygms42njusny40otugms42njusmtqunjyyiemxljy2nswymc4xntkgns4xmdksmjquodu0idkuotcsmjyunzq0iem5ljg1niwyns43mtggos43ntmsmjqumtqzidewljaxniwymy4wmjigqzewlji1mywymi4wmsaxms41ndgsmtyuntcyidexlju0ocwxni41nzigqzexlju0ocwxni41nzigmteumtu3lde1ljc5nsaxms4xntcsmtqunjq2iemxms4xntcsmtiuodqyideyljixmswxms40otugmtmuntiyldexljq5nsbdmtqunjm3ldexljq5nsaxns4xnzusmtiumzi2ide1lje3nswxmy4zmjmgqze1lje3nswxnc40mzygmtqundyylde2ljegmtqumdkzlde3ljy0mybdmtmunzg1lde4ljkznsaxnc43ndusmtkuotg4ide2ljayocwxos45odggqze4ljm1mswxos45odggmjaumtm2lde3lju1niaymc4xmzysmtqumdq2iemymc4xmzysmtauotm5ide3ljg4ocw4ljc2nyaxnc42nzgsoc43njcgqzewljk1osw4ljc2nya4ljc3nywxms41mzygoc43nzcsmtqumzk4iem4ljc3nywxns41mtmgos4ymswxni43mdkgos43ndksmtcumzu5iem5ljg1niwxny40odggos44nzismtcunia5ljg0lde3ljczmsbdos43ndesmtgumtqxidkuntismtkumdizidkundc3lde5ljiwmybdos40miwxos40nca5lji4ocwxos40otegos4wncwxos4znzygqzcunda4lde4ljyymia2ljm4nywxni4yntigni4zodcsmtqumzq5iem2ljm4nywxmc4yntygos4zodmsni40otcgmtuumdiyldyundk3iemxos41ntusni40otcgmjmumdc4ldkunza1idizlja3ocwxmy45otegqzizlja3ocwxoc40njmgmjaumjm5ldiylja2miaxni4yotcsmjiumdyyiemxnc45nzmsmjiumdyyidezljcyocwyms4znzkgmtmumzayldiwlju3mibdmtmumzayldiwlju3miaxmi42ndcsmjmumdugmtiundg4ldizljy1nybdmtiumtkzldi0ljc4ncaxms4zotysmjyumtk2idewljg2mywyny4wntggqzeylja4niwyny40mzqgmtmumzg2ldi3ljyznyaxnc43mzmsmjcunjm3iemyms45nswyny42mzcgmjcuodaxldixljgyocayny44mdesmtqunjyyiemyny44mdesny40otugmjeuotusms42odygmtqunzmzldeunjg2iibmawxspsijymqwodfjij48l3bhdgg+pc9npjwvc3znpg==); background-size: 14px 14px; background-color: #bd081c; position: absolute; opacity: 1; z-index: 8675309; display: none; cursor: pointer; border: none; -webkit-font-smoothing: antialiased; background-position: 3px 50%; background-repeat: no-repeat no-repeat;">Bewaren
top-right-radius: 2px; border-bottom-right-radius: 2px; border-bottom-left-radius: 2px; text-indent: 20px; width: auto; padding: 0px 4px 0px 0px; text-align: center; font-style: normal; font-variant-caps: normal; font-weight: bold; font-stretch: normal; font-size: 11px; line-height: 20px; font-family: 'Helvetica Neue', Helvetica, sans-serif; color: #ffffff; background-image: url(data:image/svg+xml; base64,phn2zyb4bwxucz0iahr0cdovl3d3dy53my5vcmcvmjawmc9zdmciighlawdodd0imzbwecigd2lkdgg9ijmwchgiihzpzxdcb3g9ii0xic0xidmxidmxij48zz48cgf0acbkpsjnmjkundq5lde0ljy2mibdmjkundq5ldiyljcymiaymi44njgsmjkumju2ide0ljc1ldi5lji1nibdni42mzismjkumju2idaumduxldiyljcymiawlja1mswxnc42njigqzaumduxldyunjaxidyunjmyldaumdy3ide0ljc1ldaumdy3iemymi44njgsmc4wnjcgmjkundq5ldyunjaxidi5ljq0oswxnc42njiiigzpbgw9iinmzmyiihn0cm9rzt0ii2zmziigc3ryb2tllxdpzhropsixij48l3bhdgg+phbhdgggzd0itte0ljczmywxljy4nibdny41mtysms42odygms42njusny40otugms42njusmtqunjyyiemxljy2nswymc4xntkgns4xmdksmjquodu0idkuotcsmjyunzq0iem5ljg1niwyns43mtggos43ntmsmjqumtqzidewljaxniwymy4wmjigqzewlji1mywymi4wmsaxms41ndgsmtyuntcyidexlju0ocwxni41nzigqzexlju0ocwxni41nzigmteumtu3lde1ljc5nsaxms4xntcsmtqunjq2iemxms4xntcsmtiuodqyideyljixmswxms40otugmtmuntiyldexljq5nsbdmtqunjm3ldexljq5nsaxns4xnzusmtiumzi2ide1lje3nswxmy4zmjmgqze1lje3nswxnc40mzygmtqundyylde2ljegmtqumdkzlde3ljy0mybdmtmunzg1lde4ljkznsaxnc43ndusmtkuotg4ide2ljayocwxos45odggqze4ljm1mswxos45odggmjaumtm2lde3lju1niaymc4xmzysmtqumdq2iemymc4xmzysmtauotm5ide3ljg4ocw4ljc2nyaxnc42nzgsoc43njcgqzewljk1osw4ljc2nya4ljc3nywxms41mzygoc43nzcsmtqumzk4iem4ljc3nywxns41mtmgos4ymswxni43mdkgos43ndksmtcumzu5iem5ljg1niwxny40odggos44nzismtcunia5ljg0lde3ljczmsbdos43ndesmtgumtqxidkuntismtkumdizidkundc3lde5ljiwmybdos40miwxos40nca5lji4ocwxos40otegos4wncwxos4znzygqzcunda4lde4ljyymia2ljm4nywxni4yntigni4zodcsmtqumzq5iem2ljm4nywxmc4yntygos4zodmsni40otcgmtuumdiyldyundk3iemxos41ntusni40otcgmjmumdc4ldkunza1idizlja3ocwxmy45otegqzizlja3ocwxoc40njmgmjaumjm5ldiylja2miaxni4yotcsmjiumdyyiemxnc45nzmsmjiumdyyidezljcyocwyms4znzkgmtmumzayldiwlju3mibdmtmumzayldiwlju3miaxmi42ndcsmjmumdugmtiundg4ldizljy1nybdmtiumtkzldi0ljc4ncaxms4zotysmjyumtk2idewljg2mywyny4wntggqzeylja4niwyny40mzqgmtmumzg2ldi3ljyznyaxnc43mzmsmjcunjm3iemyms45nswyny42mzcgmjcuodaxldixljgyocayny44mdesmtqunjyyiemyny44mdesny40otugmjeuotusms42odygmtqunzmzldeunjg2iibmawxspsijymqwodfjij48l3bhdgg+pc9npjwvc3znpg==); background-size: 14px 14px; background-color: #bd081c; position: absolute; opacity: 1; z-index: 8675309; display: none; cursor: pointer; border: none; -webkit-font-smoothing: antialiased; background-position: 3px 50%; background-repeat: no-repeat no-repeat;">Bewarentop-right-radius: 2px; border-bottom-right-radius: 2px; border-bottom-left-radius: 2px; text-indent: 20px; width: auto; padding: 0px 4px 0px 0px; text-align: center; font-style: normal; font-variant-caps: normal; font-weight: bold; font-stretch: normal; font-size: 11px; line-height: 20px; font-family: 'Helvetica Neue', Helvetica, sans-serif; color: #ffffff; background-image: url(data:image/svg+xml; base64,phn2zyb4bwxucz0iahr0cdovl3d3dy53my5vcmcvmjawmc9zdmciighlawdodd0imzbwecigd2lkdgg9ijmwchgiihzpzxdcb3g9ii0xic0xidmxidmxij48zz48cgf0acbkpsjnmjkundq5lde0ljy2mibdmjkundq5ldiyljcymiaymi44njgsmjkumju2ide0ljc1ldi5lji1nibdni42mzismjkumju2idaumduxldiyljcymiawlja1mswxnc42njigqzaumduxldyunjaxidyunjmyldaumdy3ide0ljc1ldaumdy3iemymi44njgsmc4wnjcgmjkundq5ldyunjaxidi5ljq0oswxnc42njiiigzpbgw9iinmzmyiihn0cm9rzt0ii2zmziigc3ryb2tllxdpzhropsixij48l3bhdgg+phbhdgggzd0itte0ljczmywxljy4nibdny41mtysms42odygms42njusny40otugms42njusmtqunjyyiemxljy2nswymc4xntkgns4xmdksmjquodu0idkuotcsmjyunzq0iem5ljg1niwyns43mtggos43ntmsmjqumtqzidewljaxniwymy4wmjigqzewlji1mywymi4wmsaxms41ndgsmtyuntcyidexlju0ocwxni41nzigqzexlju0ocwxni41nzigmteumtu3lde1ljc5nsaxms4xntcsmtqunjq2iemxms4xntcsmtiuodqyideyljixmswxms40otugmtmuntiyldexljq5nsbdmtqunjm3ldexljq5nsaxns4xnzusmtiumzi2ide1lje3nswxmy4zmjmgqze1lje3nswxnc40mzygmtqundyylde2ljegmtqumdkzlde3ljy0mybdmtmunzg1lde4ljkznsaxnc43ndusmtkuotg4ide2ljayocwxos45odggqze4ljm1mswxos45odggmjaumtm2lde3lju1niaymc4xmzysmtqumdq2iemymc4xmzysmtauotm5ide3ljg4ocw4ljc2nyaxnc42nzgsoc43njcgqzewljk1osw4ljc2nya4ljc3nywxms41mzygoc43nzcsmtqumzk4iem4ljc3nywxns41mtmgos4ymswxni43mdkgos43ndksmtcumzu5iem5ljg1niwxny40odggos44nzismtcunia5ljg0lde3ljczmsbdos43ndesmtgumtqxidkuntismtkumdizidkundc3lde5ljiwmybdos40miwxos40nca5lji4ocwxos40otegos4wncwxos4znzygqzcunda4lde4ljyymia2ljm4nywxni4yntigni4zodcsmtqumzq5iem2ljm4nywxmc4yntygos4zodmsni40otcgmtuumdiyldyundk3iemxos41ntusni40otcgmjmumdc4ldkunza1idizlja3ocwxmy45otegqzizlja3ocwxoc40njmgmjaumjm5ldiylja2miaxni4yotcsmjiumdyyiemxnc45nzmsmjiumdyyidezljcyocwyms4znzkgmtmumzayldiwlju3mibdmtmumzayldiwlju3miaxmi42ndcsmjmumdugmtiundg4ldizljy1nybdmtiumtkzldi0ljc4ncaxms4zotysmjyumtk2idewljg2mywyny4wntggqzeylja4niwyny40mzqgmtmumzg2ldi3ljyznyaxnc43mzmsmjcunjm3iemyms45nswyny42mzcgmjcuodaxldixljgyocayny44mdesmtqunjyyiemyny44mdesny40otugmjeuotusms42odygmtqunzmzldeunjg2iibmawxspsijymqwodfjij48l3bhdgg+pc9npjwvc3znpg==); background-size: 14px 14px; background-color: #bd081c; position: absolute; opacity: 1; z-index: 8675309; display: none; cursor: pointer; border: none; -webkit-font-smoothing: antialiased; background-position: 3px 50%; background-repeat: no-repeat no-repeat;">Bewaren
top-right-radius: 2px; border-bottom-right-radius: 2px; border-bottom-left-radius: 2px; text-indent: 20px; width: auto; padding: 0px 4px 0px 0px; text-align: center; font-style: normal; font-variant-caps: normal; font-weight: bold; font-stretch: normal; font-size: 11px; line-height: 20px; font-family: 'Helvetica Neue', Helvetica, sans-serif; color: #ffffff; background-image: url(data:image/svg+xml; base64,phn2zyb4bwxucz0iahr0cdovl3d3dy53my5vcmcvmjawmc9zdmciighlawdodd0imzbwecigd2lkdgg9ijmwchgiihzpzxdcb3g9ii0xic0xidmxidmxij48zz48cgf0acbkpsjnmjkundq5lde0ljy2mibdmjkundq5ldiyljcymiaymi44njgsmjkumju2ide0ljc1ldi5lji1nibdni42mzismjkumju2idaumduxldiyljcymiawlja1mswxnc42njigqzaumduxldyunjaxidyunjmyldaumdy3ide0ljc1ldaumdy3iemymi44njgsmc4wnjcgmjkundq5ldyunjaxidi5ljq0oswxnc42njiiigzpbgw9iinmzmyiihn0cm9rzt0ii2zmziigc3ryb2tllxdpzhropsixij48l3bhdgg+phbhdgggzd0itte0ljczmywxljy4nibdny41mtysms42odygms42njusny40otugms42njusmtqunjyyiemxljy2nswymc4xntkgns4xmdksmjquodu0idkuotcsmjyunzq0iem5ljg1niwyns43mtggos43ntmsmjqumtqzidewljaxniwymy4wmjigqzewlji1mywymi4wmsaxms41ndgsmtyuntcyidexlju0ocwxni41nzigqzexlju0ocwxni41nzigmteumtu3lde1ljc5nsaxms4xntcsmtqunjq2iemxms4xntcsmtiuodqyideyljixmswxms40otugmtmuntiyldexljq5nsbdmtqunjm3ldexljq5nsaxns4xnzusmtiumzi2ide1lje3nswxmy4zmjmgqze1lje3nswxnc40mzygmtqundyylde2ljegmtqumdkzlde3ljy0mybdmtmunzg1lde4ljkznsaxnc43ndusmtkuotg4ide2ljayocwxos45odggqze4ljm1mswxos45odggmjaumtm2lde3lju1niaymc4xmzysmtqumdq2iemymc4xmzysmtauotm5ide3ljg4ocw4ljc2nyaxnc42nzgsoc43njcgqzewljk1osw4ljc2nya4ljc3nywxms41mzygoc43nzcsmtqumzk4iem4ljc3nywxns41mtmgos4ymswxni43mdkgos43ndksmtcumzu5iem5ljg1niwxny40odggos44nzismtcunia5ljg0lde3ljczmsbdos43ndesmtgumtqxidkuntismtkumdizidkundc3lde5ljiwmybdos40miwxos40nca5lji4ocwxos40otegos4wncwxos4znzygqzcunda4lde4ljyymia2ljm4nywxni4yntigni4zodcsmtqumzq5iem2ljm4nywxmc4yntygos4zodmsni40otcgmtuumdiyldyundk3iemxos41ntusni40otcgmjmumdc4ldkunza1idizlja3ocwxmy45otegqzizlja3ocwxoc40njmgmjaumjm5ldiylja2miaxni4yotcsmjiumdyyiemxnc45nzmsmjiumdyyidezljcyocwyms4znzkgmtmumzayldiwlju3mibdmtmumzayldiwlju3miaxmi42ndcsmjmumdugmtiundg4ldizljy1nybdmtiumtkzldi0ljc4ncaxms4zotysmjyumtk2idewljg2mywyny4wntggqzeylja4niwyny40mzqgmtmumzg2ldi3ljyznyaxnc43mzmsmjcunjm3iemyms45nswyny42mzcgmjcuodaxldixljgyocayny44mdesmtqunjyyiemyny44mdesny40otugmjeuotusms42odygmtqunzmzldeunjg2iibmawxspsijymqwodfjij48l3bhdgg+pc9npjwvc3znpg==); background-size: 14px 14px; background-color: #bd081c; position: absolute; opacity: 1; z-index: 8675309; display: none; cursor: pointer; border: none; -webkit-font-smoothing: antialiased; top: 236px; left: 20px; background-position: 3px 50%; background-repeat: no-repeat no-repeat;">Bewarentop-right-radius: 2px; border-bottom-right-radius: 2px; border-bottom-left-radius: 2px; text-indent: 20px; width: auto; padding: 0px 4px 0px 0px; text-align: center; font-style: normal; font-variant-caps: normal; font-weight: bold; font-stretch: normal; font-size: 11px; line-height: 20px; font-family: 'Helvetica Neue', Helvetica, sans-serif; color: #ffffff; background-image: url(data:image/svg+xml; base64,phn2zyb4bwxucz0iahr0cdovl3d3dy53my5vcmcvmjawmc9zdmciighlawdodd0imzbwecigd2lkdgg9ijmwchgiihzpzxdcb3g9ii0xic0xidmxidmxij48zz48cgf0acbkpsjnmjkundq5lde0ljy2mibdmjkundq5ldiyljcymiaymi44njgsmjkumju2ide0ljc1ldi5lji1nibdni42mzismjkumju2idaumduxldiyljcymiawlja1mswxnc42njigqzaumduxldyunjaxidyunjmyldaumdy3ide0ljc1ldaumdy3iemymi44njgsmc4wnjcgmjkundq5ldyunjaxidi5ljq0oswxnc42njiiigzpbgw9iinmzmyiihn0cm9rzt0ii2zmziigc3ryb2tllxdpzhropsixij48l3bhdgg+phbhdgggzd0itte0ljczmywxljy4nibdny41mtysms42odygms42njusny40otugms42njusmtqunjyyiemxljy2nswymc4xntkgns4xmdksmjquodu0idkuotcsmjyunzq0iem5ljg1niwyns43mtggos43ntmsmjqumtqzidewljaxniwymy4wmjigqzewlji1mywymi4wmsaxms41ndgsmtyuntcyidexlju0ocwxni41nzigqzexlju0ocwxni41nzigmteumtu3lde1ljc5nsaxms4xntcsmtqunjq2iemxms4xntcsmtiuodqyideyljixmswxms40otugmtmuntiyldexljq5nsbdmtqunjm3ldexljq5nsaxns4xnzusmtiumzi2ide1lje3nswxmy4zmjmgqze1lje3nswxnc40mzygmtqundyylde2ljegmtqumdkzlde3ljy0mybdmtmunzg1lde4ljkznsaxnc43ndusmtkuotg4ide2ljayocwxos45odggqze4ljm1mswxos45odggmjaumtm2lde3lju1niaymc4xmzysmtqumdq2iemymc4xmzysmtauotm5ide3ljg4ocw4ljc2nyaxnc42nzgsoc43njcgqzewljk1osw4ljc2nya4ljc3nywxms41mzygoc43nzcsmtqumzk4iem4ljc3nywxns41mtmgos4ymswxni43mdkgos43ndksmtcumzu5iem5ljg1niwxny40odggos44nzismtcunia5ljg0lde3ljczmsbdos43ndesmtgumtqxidkuntismtkumdizidkundc3lde5ljiwmybdos40miwxos40nca5lji4ocwxos40otegos4wncwxos4znzygqzcunda4lde4ljyymia2ljm4nywxni4yntigni4zodcsmtqumzq5iem2ljm4nywxmc4yntygos4zodmsni40otcgmtuumdiyldyundk3iemxos41ntusni40otcgmjmumdc4ldkunza1idizlja3ocwxmy45otegqzizlja3ocwxoc40njmgmjaumjm5ldiylja2miaxni4yotcsmjiumdyyiemxnc45nzmsmjiumdyyidezljcyocwyms4znzkgmtmumzayldiwlju3mibdmtmumzayldiwlju3miaxmi42ndcsmjmumdugmtiundg4ldizljy1nybdmtiumtkzldi0ljc4ncaxms4zotysmjyumtk2idewljg2mywyny4wntggqzeylja4niwyny40mzqgmtmumzg2ldi3ljyznyaxnc43mzmsmjcunjm3iemyms45nswyny42mzcgmjcuodaxldixljgyocayny44mdesmtqunjyyiemyny44mdesny40otugmjeuotusms42odygmtqunzmzldeunjg2iibmawxspsijymqwodfjij48l3bhdgg+pc9npjwvc3znpg==); background-size: 14px 14px; background-color: #bd081c; position: absolute; opacity: 1; z-index: 8675309; display: none; cursor: pointer; border: none; -webkit-font-smoothing: antialiased; top: 236px; left: 20px; background-position: 3px 50%; background-repeat: no-repeat no-repeat;">Bewaren
top-right-radius: 2px; border-bottom-right-radius: 2px; border-bottom-left-radius: 2px; text-indent: 20px; width: auto; padding: 0px 4px 0px 0px; text-align: center; font-style: normal; font-variant-caps: normal; font-weight: bold; font-stretch: normal; font-size: 11px; line-height: 20px; font-family: 'Helvetica Neue', Helvetica, sans-serif; color: #ffffff; background-image: url(data:image/svg+xml; base64,phn2zyb4bwxucz0iahr0cdovl3d3dy53my5vcmcvmjawmc9zdmciighlawdodd0imzbwecigd2lkdgg9ijmwchgiihzpzxdcb3g9ii0xic0xidmxidmxij48zz48cgf0acbkpsjnmjkundq5lde0ljy2mibdmjkundq5ldiyljcymiaymi44njgsmjkumju2ide0ljc1ldi5lji1nibdni42mzismjkumju2idaumduxldiyljcymiawlja1mswxnc42njigqzaumduxldyunjaxidyunjmyldaumdy3ide0ljc1ldaumdy3iemymi44njgsmc4wnjcgmjkundq5ldyunjaxidi5ljq0oswxnc42njiiigzpbgw9iinmzmyiihn0cm9rzt0ii2zmziigc3ryb2tllxdpzhropsixij48l3bhdgg+phbhdgggzd0itte0ljczmywxljy4nibdny41mtysms42odygms42njusny40otugms42njusmtqunjyyiemxljy2nswymc4xntkgns4xmdksmjquodu0idkuotcsmjyunzq0iem5ljg1niwyns43mtggos43ntmsmjqumtqzidewljaxniwymy4wmjigqzewlji1mywymi4wmsaxms41ndgsmtyuntcyidexlju0ocwxni41nzigqzexlju0ocwxni41nzigmteumtu3lde1ljc5nsaxms4xntcsmtqunjq2iemxms4xntcsmtiuodqyideyljixmswxms40otugmtmuntiyldexljq5nsbdmtqunjm3ldexljq5nsaxns4xnzusmtiumzi2ide1lje3nswxmy4zmjmgqze1lje3nswxnc40mzygmtqundyylde2ljegmtqumdkzlde3ljy0mybdmtmunzg1lde4ljkznsaxnc43ndusmtkuotg4ide2ljayocwxos45odggqze4ljm1mswxos45odggmjaumtm2lde3lju1niaymc4xmzysmtqumdq2iemymc4xmzysmtauotm5ide3ljg4ocw4ljc2nyaxnc42nzgsoc43njcgqzewljk1osw4ljc2nya4ljc3nywxms41mzygoc43nzcsmtqumzk4iem4ljc3nywxns41mtmgos4ymswxni43mdkgos43ndksmtcumzu5iem5ljg1niwxny40odggos44nzismtcunia5ljg0lde3ljczmsbdos43ndesmtgumtqxidkuntismtkumdizidkundc3lde5ljiwmybdos40miwxos40nca5lji4ocwxos40otegos4wncwxos4znzygqzcunda4lde4ljyymia2ljm4nywxni4yntigni4zodcsmtqumzq5iem2ljm4nywxmc4yntygos4zodmsni40otcgmtuumdiyldyundk3iemxos41ntusni40otcgmjmumdc4ldkunza1idizlja3ocwxmy45otegqzizlja3ocwxoc40njmgmjaumjm5ldiylja2miaxni4yotcsmjiumdyyiemxnc45nzmsmjiumdyyidezljcyocwyms4znzkgmtmumzayldiwlju3mibdmtmumzayldiwlju3miaxmi42ndcsmjmumdugmtiundg4ldizljy1nybdmtiumtkzldi0ljc4ncaxms4zotysmjyumtk2idewljg2mywyny4wntggqzeylja4niwyny40mzqgmtmumzg2ldi3ljyznyaxnc43mzmsmjcunjm3iemyms45nswyny42mzcgmjcuodaxldixljgyocayny44mdesmtqunjyyiemyny44mdesny40otugmjeuotusms42odygmtqunzmzldeunjg2iibmawxspsijymqwodfjij48l3bhdgg+pc9npjwvc3znpg==); background-size: 14px 14px; background-color: #bd081c; position: absolute; opacity: 1; z-index: 8675309; display: none; cursor: pointer; border: none; -webkit-font-smoothing: antialiased; top: 212px; left: 20px; background-position: 3px 50%; background-repeat: no-repeat no-repeat;">Bewarentop-right-radius: 2px; border-bottom-right-radius: 2px; border-bottom-left-radius: 2px; text-indent: 20px; width: auto; padding: 0px 4px 0px 0px; text-align: center; font-style: normal; font-variant-caps: normal; font-weight: bold; font-stretch: normal; font-size: 11px; line-height: 20px; font-family: 'Helvetica Neue', Helvetica, sans-serif; color: #ffffff; background-image: url(data:image/svg+xml; base64,phn2zyb4bwxucz0iahr0cdovl3d3dy53my5vcmcvmjawmc9zdmciighlawdodd0imzbwecigd2lkdgg9ijmwchgiihzpzxdcb3g9ii0xic0xidmxidmxij48zz48cgf0acbkpsjnmjkundq5lde0ljy2mibdmjkundq5ldiyljcymiaymi44njgsmjkumju2ide0ljc1ldi5lji1nibdni42mzismjkumju2idaumduxldiyljcymiawlja1mswxnc42njigqzaumduxldyunjaxidyunjmyldaumdy3ide0ljc1ldaumdy3iemymi44njgsmc4wnjcgmjkundq5ldyunjaxidi5ljq0oswxnc42njiiigzpbgw9iinmzmyiihn0cm9rzt0ii2zmziigc3ryb2tllxdpzhropsixij48l3bhdgg+phbhdgggzd0itte0ljczmywxljy4nibdny41mtysms42odygms42njusny40otugms42njusmtqunjyyiemxljy2nswymc4xntkgns4xmdksmjquodu0idkuotcsmjyunzq0iem5ljg1niwyns43mtggos43ntmsmjqumtqzidewljaxniwymy4wmjigqzewlji1mywymi4wmsaxms41ndgsmtyuntcyidexlju0ocwxni41nzigqzexlju0ocwxni41nzigmteumtu3lde1ljc5nsaxms4xntcsmtqunjq2iemxms4xntcsmtiuodqyideyljixmswxms40otugmtmuntiyldexljq5nsbdmtqunjm3ldexljq5nsaxns4xnzusmtiumzi2ide1lje3nswxmy4zmjmgqze1lje3nswxnc40mzygmtqundyylde2ljegmtqumdkzlde3ljy0mybdmtmunzg1lde4ljkznsaxnc43ndusmtkuotg4ide2ljayocwxos45odggqze4ljm1mswxos45odggmjaumtm2lde3lju1niaymc4xmzysmtqumdq2iemymc4xmzysmtauotm5ide3ljg4ocw4ljc2nyaxnc42nzgsoc43njcgqzewljk1osw4ljc2nya4ljc3nywxms41mzygoc43nzcsmtqumzk4iem4ljc3nywxns41mtmgos4ymswxni43mdkgos43ndksmtcumzu5iem5ljg1niwxny40odggos44nzismtcunia5ljg0lde3ljczmsbdos43ndesmtgumtqxidkuntismtkumdizidkundc3lde5ljiwmybdos40miwxos40nca5lji4ocwxos40otegos4wncwxos4znzygqzcunda4lde4ljyymia2ljm4nywxni4yntigni4zodcsmtqumzq5iem2ljm4nywxmc4yntygos4zodmsni40otcgmtuumdiyldyundk3iemxos41ntusni40otcgmjmumdc4ldkunza1idizlja3ocwxmy45otegqzizlja3ocwxoc40njmgmjaumjm5ldiylja2miaxni4yotcsmjiumdyyiemxnc45nzmsmjiumdyyidezljcyocwyms4znzkgmtmumzayldiwlju3mibdmtmumzayldiwlju3miaxmi42ndcsmjmumdugmtiundg4ldizljy1nybdmtiumtkzldi0ljc4ncaxms4zotysmjyumtk2idewljg2mywyny4wntggqzeylja4niwyny40mzqgmtmumzg2ldi3ljyznyaxnc43mzmsmjcunjm3iemyms45nswyny42mzcgmjcuodaxldixljgyocayny44mdesmtqunjyyiemyny44mdesny40otugmjeuotusms42odygmtqunzmzldeunjg2iibmawxspsijymqwodfjij48l3bhdgg+pc9npjwvc3znpg==); background-size: 14px 14px; background-color: #bd081c; position: absolute; opacity: 1; z-index: 8675309; display: none; cursor: pointer; border: none; -webkit-font-smoothing: antialiased; top: 212px; left: 20px; background-position: 3px 50%; background-repeat: no-repeat no-repeat;">Bewaren
top-right-radius: 2px; border-bottom-right-radius: 2px; border-bottom-left-radius: 2px; text-indent: 20px; width: auto; padding: 0px 4px 0px 0px; text-align: center; font-style: normal; font-variant-caps: normal; font-weight: bold; font-stretch: normal; font-size: 11px; line-height: 20px; font-family: 'Helvetica Neue', Helvetica, sans-serif; color: #ffffff; background-image: url(data:image/svg+xml; base64,phn2zyb4bwxucz0iahr0cdovl3d3dy53my5vcmcvmjawmc9zdmciighlawdodd0imzbwecigd2lkdgg9ijmwchgiihzpzxdcb3g9ii0xic0xidmxidmxij48zz48cgf0acbkpsjnmjkundq5lde0ljy2mibdmjkundq5ldiyljcymiaymi44njgsmjkumju2ide0ljc1ldi5lji1nibdni42mzismjkumju2idaumduxldiyljcymiawlja1mswxnc42njigqzaumduxldyunjaxidyunjmyldaumdy3ide0ljc1ldaumdy3iemymi44njgsmc4wnjcgmjkundq5ldyunjaxidi5ljq0oswxnc42njiiigzpbgw9iinmzmyiihn0cm9rzt0ii2zmziigc3ryb2tllxdpzhropsixij48l3bhdgg+phbhdgggzd0itte0ljczmywxljy4nibdny41mtysms42odygms42njusny40otugms42njusmtqunjyyiemxljy2nswymc4xntkgns4xmdksmjquodu0idkuotcsmjyunzq0iem5ljg1niwyns43mtggos43ntmsmjqumtqzidewljaxniwymy4wmjigqzewlji1mywymi4wmsaxms41ndgsmtyuntcyidexlju0ocwxni41nzigqzexlju0ocwxni41nzigmteumtu3lde1ljc5nsaxms4xntcsmtqunjq2iemxms4xntcsmtiuodqyideyljixmswxms40otugmtmuntiyldexljq5nsbdmtqunjm3ldexljq5nsaxns4xnzusmtiumzi2ide1lje3nswxmy4zmjmgqze1lje3nswxnc40mzygmtqundyylde2ljegmtqumdkzlde3ljy0mybdmtmunzg1lde4ljkznsaxnc43ndusmtkuotg4ide2ljayocwxos45odggqze4ljm1mswxos45odggmjaumtm2lde3lju1niaymc4xmzysmtqumdq2iemymc4xmzysmtauotm5ide3ljg4ocw4ljc2nyaxnc42nzgsoc43njcgqzewljk1osw4ljc2nya4ljc3nywxms41mzygoc43nzcsmtqumzk4iem4ljc3nywxns41mtmgos4ymswxni43mdkgos43ndksmtcumzu5iem5ljg1niwxny40odggos44nzismtcunia5ljg0lde3ljczmsbdos43ndesmtgumtqxidkuntismtkumdizidkundc3lde5ljiwmybdos40miwxos40nca5lji4ocwxos40otegos4wncwxos4znzygqzcunda4lde4ljyymia2ljm4nywxni4yntigni4zodcsmtqumzq5iem2ljm4nywxmc4yntygos4zodmsni40otcgmtuumdiyldyundk3iemxos41ntusni40otcgmjmumdc4ldkunza1idizlja3ocwxmy45otegqzizlja3ocwxoc40njmgmjaumjm5ldiylja2miaxni4yotcsmjiumdyyiemxnc45nzmsmjiumdyyidezljcyocwyms4znzkgmtmumzayldiwlju3mibdmtmumzayldiwlju3miaxmi42ndcsmjmumdugmtiundg4ldizljy1nybdmtiumtkzldi0ljc4ncaxms4zotysmjyumtk2idewljg2mywyny4wntggqzeylja4niwyny40mzqgmtmumzg2ldi3ljyznyaxnc43mzmsmjcunjm3iemyms45nswyny42mzcgmjcuodaxldixljgyocayny44mdesmtqunjyyiemyny44mdesny40otugmjeuotusms42odygmtqunzmzldeunjg2iibmawxspsijymqwodfjij48l3bhdgg+pc9npjwvc3znpg==); background-size: 14px 14px; background-color: #bd081c; position: absolute; opacity: 1; z-index: 8675309; display: none; cursor: pointer; border: none; -webkit-font-smoothing: antialiased; background-position: 3px 50%; background-repeat: no-repeat no-repeat;">Bewarentop-right-radius: 2px; border-bottom-right-radius: 2px; border-bottom-left-radius: 2px; text-indent: 20px; width: auto; padding: 0px 4px 0px 0px; text-align: center; font-style: normal; font-variant-caps: normal; font-weight: bold; font-stretch: normal; font-size: 11px; line-height: 20px; font-family: 'Helvetica Neue', Helvetica, sans-serif; color: #ffffff; background-image: url(data:image/svg+xml; base64,phn2zyb4bwxucz0iahr0cdovl3d3dy53my5vcmcvmjawmc9zdmciighlawdodd0imzbwecigd2lkdgg9ijmwchgiihzpzxdcb3g9ii0xic0xidmxidmxij48zz48cgf0acbkpsjnmjkundq5lde0ljy2mibdmjkundq5ldiyljcymiaymi44njgsmjkumju2ide0ljc1ldi5lji1nibdni42mzismjkumju2idaumduxldiyljcymiawlja1mswxnc42njigqzaumduxldyunjaxidyunjmyldaumdy3ide0ljc1ldaumdy3iemymi44njgsmc4wnjcgmjkundq5ldyunjaxidi5ljq0oswxnc42njiiigzpbgw9iinmzmyiihn0cm9rzt0ii2zmziigc3ryb2tllxdpzhropsixij48l3bhdgg+phbhdgggzd0itte0ljczmywxljy4nibdny41mtysms42odygms42njusny40otugms42njusmtqunjyyiemxljy2nswymc4xntkgns4xmdksmjquodu0idkuotcsmjyunzq0iem5ljg1niwyns43mtggos43ntmsmjqumtqzidewljaxniwymy4wmjigqzewlji1mywymi4wmsaxms41ndgsmtyuntcyidexlju0ocwxni41nzigqzexlju0ocwxni41nzigmteumtu3lde1ljc5nsaxms4xntcsmtqunjq2iemxms4xntcsmtiuodqyideyljixmswxms40otugmtmuntiyldexljq5nsbdmtqunjm3ldexljq5nsaxns4xnzusmtiumzi2ide1lje3nswxmy4zmjmgqze1lje3nswxnc40mzygmtqundyylde2ljegmtqumdkzlde3ljy0mybdmtmunzg1lde4ljkznsaxnc43ndusmtkuotg4ide2ljayocwxos45odggqze4ljm1mswxos45odggmjaumtm2lde3lju1niaymc4xmzysmtqumdq2iemymc4xmzysmtauotm5ide3ljg4ocw4ljc2nyaxnc42nzgsoc43njcgqzewljk1osw4ljc2nya4ljc3nywxms41mzygoc43nzcsmtqumzk4iem4ljc3nywxns41mtmgos4ymswxni43mdkgos43ndksmtcumzu5iem5ljg1niwxny40odggos44nzismtcunia5ljg0lde3ljczmsbdos43ndesmtgumtqxidkuntismtkumdizidkundc3lde5ljiwmybdos40miwxos40nca5lji4ocwxos40otegos4wncwxos4znzygqzcunda4lde4ljyymia2ljm4nywxni4yntigni4zodcsmtqumzq5iem2ljm4nywxmc4yntygos4zodmsni40otcgmtuumdiyldyundk3iemxos41ntusni40otcgmjmumdc4ldkunza1idizlja3ocwxmy45otegqzizlja3ocwxoc40njmgmjaumjm5ldiylja2miaxni4yotcsmjiumdyyiemxnc45nzmsmjiumdyyidezljcyocwyms4znzkgmtmumzayldiwlju3mibdmtmumzayldiwlju3miaxmi42ndcsmjmumdugmtiundg4ldizljy1nybdmtiumtkzldi0ljc4ncaxms4zotysmjyumtk2idewljg2mywyny4wntggqzeylja4niwyny40mzqgmtmumzg2ldi3ljyznyaxnc43mzmsmjcunjm3iemyms45nswyny42mzcgmjcuodaxldixljgyocayny44mdesmtqunjyyiemyny44mdesny40otugmjeuotusms42odygmtqunzmzldeunjg2iibmawxspsijymqwodfjij48l3bhdgg+pc9npjwvc3znpg==); background-size: 14px 14px; background-color: #bd081c; position: absolute; opacity: 1; z-index: 8675309; display: none; cursor: pointer; border: none; -webkit-font-smoothing: antialiased; background-position: 3px 50%; background-repeat: no-repeat no-repeat;">Bewaren
top-right-radius: 2px; border-bottom-right-radius: 2px; border-bottom-left-radius: 2px; text-indent: 20px; width: auto; padding: 0px 4px 0px 0px; text-align: center; font-style: normal; font-variant-caps: normal; font-weight: bold; font-stretch: normal; font-size: 11px; line-height: 20px; font-family: 'Helvetica Neue', Helvetica, sans-serif; color: #ffffff; background-image: url(data:image/svg+xml; base64,phn2zyb4bwxucz0iahr0cdovl3d3dy53my5vcmcvmjawmc9zdmciighlawdodd0imzbwecigd2lkdgg9ijmwchgiihzpzxdcb3g9ii0xic0xidmxidmxij48zz48cgf0acbkpsjnmjkundq5lde0ljy2mibdmjkundq5ldiyljcymiaymi44njgsmjkumju2ide0ljc1ldi5lji1nibdni42mzismjkumju2idaumduxldiyljcymiawlja1mswxnc42njigqzaumduxldyunjaxidyunjmyldaumdy3ide0ljc1ldaumdy3iemymi44njgsmc4wnjcgmjkundq5ldyunjaxidi5ljq0oswxnc42njiiigzpbgw9iinmzmyiihn0cm9rzt0ii2zmziigc3ryb2tllxdpzhropsixij48l3bhdgg+phbhdgggzd0itte0ljczmywxljy4nibdny41mtysms42odygms42njusny40otugms42njusmtqunjyyiemxljy2nswymc4xntkgns4xmdksmjquodu0idkuotcsmjyunzq0iem5ljg1niwyns43mtggos43ntmsmjqumtqzidewljaxniwymy4wmjigqzewlji1mywymi4wmsaxms41ndgsmtyuntcyidexlju0ocwxni41nzigqzexlju0ocwxni41nzigmteumtu3lde1ljc5nsaxms4xntcsmtqunjq2iemxms4xntcsmtiuodqyideyljixmswxms40otugmtmuntiyldexljq5nsbdmtqunjm3ldexljq5nsaxns4xnzusmtiumzi2ide1lje3nswxmy4zmjmgqze1lje3nswxnc40mzygmtqundyylde2ljegmtqumdkzlde3ljy0mybdmtmunzg1lde4ljkznsaxnc43ndusmtkuotg4ide2ljayocwxos45odggqze4ljm1mswxos45odggmjaumtm2lde3lju1niaymc4xmzysmtqumdq2iemymc4xmzysmtauotm5ide3ljg4ocw4ljc2nyaxnc42nzgsoc43njcgqzewljk1osw4ljc2nya4ljc3nywxms41mzygoc43nzcsmtqumzk4iem4ljc3nywxns41mtmgos4ymswxni43mdkgos43ndksmtcumzu5iem5ljg1niwxny40odggos44nzismtcunia5ljg0lde3ljczmsbdos43ndesmtgumtqxidkuntismtkumdizidkundc3lde5ljiwmybdos40miwxos40nca5lji4ocwxos40otegos4wncwxos4znzygqzcunda4lde4ljyymia2ljm4nywxni4yntigni4zodcsmtqumzq5iem2ljm4nywxmc4yntygos4zodmsni40otcgmtuumdiyldyundk3iemxos41ntusni40otcgmjmumdc4ldkunza1idizlja3ocwxmy45otegqzizlja3ocwxoc40njmgmjaumjm5ldiylja2miaxni4yotcsmjiumdyyiemxnc45nzmsmjiumdyyidezljcyocwyms4znzkgmtmumzayldiwlju3mibdmtmumzayldiwlju3miaxmi42ndcsmjmumdugmtiundg4ldizljy1nybdmtiumtkzldi0ljc4ncaxms4zotysmjyumtk2idewljg2mywyny4wntggqzeylja4niwyny40mzqgmtmumzg2ldi3ljyznyaxnc43mzmsmjcunjm3iemyms45nswyny42mzcgmjcuodaxldixljgyocayny44mdesmtqunjyyiemyny44mdesny40otugmjeuotusms42odygmtqunzmzldeunjg2iibmawxspsijymqwodfjij48l3bhdgg+pc9npjwvc3znpg==); background-size: 14px 14px; background-color: #bd081c; position: absolute; opacity: 1; z-index: 8675309; display: none; cursor: pointer; border: none; -webkit-font-smoothing: antialiased; background-position: 3px 50%; background-repeat: no-repeat no-repeat;">Bewarentop-right-radius: 2px; border-bottom-right-radius: 2px; border-bottom-left-radius: 2px; text-indent: 20px; width: auto; padding: 0px 4px 0px 0px; text-align: center; font-style: normal; font-variant-caps: normal; font-weight: bold; font-stretch: normal; font-size: 11px; line-height: 20px; font-family: 'Helvetica Neue', Helvetica, sans-serif; color: #ffffff; background-image: url(data:image/svg+xml; base64,phn2zyb4bwxucz0iahr0cdovl3d3dy53my5vcmcvmjawmc9zdmciighlawdodd0imzbwecigd2lkdgg9ijmwchgiihzpzxdcb3g9ii0xic0xidmxidmxij48zz48cgf0acbkpsjnmjkundq5lde0ljy2mibdmjkundq5ldiyljcymiaymi44njgsmjkumju2ide0ljc1ldi5lji1nibdni42mzismjkumju2idaumduxldiyljcymiawlja1mswxnc42njigqzaumduxldyunjaxidyunjmyldaumdy3ide0ljc1ldaumdy3iemymi44njgsmc4wnjcgmjkundq5ldyunjaxidi5ljq0oswxnc42njiiigzpbgw9iinmzmyiihn0cm9rzt0ii2zmziigc3ryb2tllxdpzhropsixij48l3bhdgg+phbhdgggzd0itte0ljczmywxljy4nibdny41mtysms42odygms42njusny40otugms42njusmtqunjyyiemxljy2nswymc4xntkgns4xmdksmjquodu0idkuotcsmjyunzq0iem5ljg1niwyns43mtggos43ntmsmjqumtqzidewljaxniwymy4wmjigqzewlji1mywymi4wmsaxms41ndgsmtyuntcyidexlju0ocwxni41nzigqzexlju0ocwxni41nzigmteumtu3lde1ljc5nsaxms4xntcsmtqunjq2iemxms4xntcsmtiuodqyideyljixmswxms40otugmtmuntiyldexljq5nsbdmtqunjm3ldexljq5nsaxns4xnzusmtiumzi2ide1lje3nswxmy4zmjmgqze1lje3nswxnc40mzygmtqundyylde2ljegmtqumdkzlde3ljy0mybdmtmunzg1lde4ljkznsaxnc43ndusmtkuotg4ide2ljayocwxos45odggqze4ljm1mswxos45odggmjaumtm2lde3lju1niaymc4xmzysmtqumdq2iemymc4xmzysmtauotm5ide3ljg4ocw4ljc2nyaxnc42nzgsoc43njcgqzewljk1osw4ljc2nya4ljc3nywxms41mzygoc43nzcsmtqumzk4iem4ljc3nywxns41mtmgos4ymswxni43mdkgos43ndksmtcumzu5iem5ljg1niwxny40odggos44nzismtcunia5ljg0lde3ljczmsbdos43ndesmtgumtqxidkuntismtkumdizidkundc3lde5ljiwmybdos40miwxos40nca5lji4ocwxos40otegos4wncwxos4znzygqzcunda4lde4ljyymia2ljm4nywxni4yntigni4zodcsmtqumzq5iem2ljm4nywxmc4yntygos4zodmsni40otcgmtuumdiyldyundk3iemxos41ntusni40otcgmjmumdc4ldkunza1idizlja3ocwxmy45otegqzizlja3ocwxoc40njmgmjaumjm5ldiylja2miaxni4yotcsmjiumdyyiemxnc45nzmsmjiumdyyidezljcyocwyms4znzkgmtmumzayldiwlju3mibdmtmumzayldiwlju3miaxmi42ndcsmjmumdugmtiundg4ldizljy1nybdmtiumtkzldi0ljc4ncaxms4zotysmjyumtk2idewljg2mywyny4wntggqzeylja4niwyny40mzqgmtmumzg2ldi3ljyznyaxnc43mzmsmjcunjm3iemyms45nswyny42mzcgmjcuodaxldixljgyocayny44mdesmtqunjyyiemyny44mdesny40otugmjeuotusms42odygmtqunzmzldeunjg2iibmawxspsijymqwodfjij48l3bhdgg+pc9npjwvc3znpg==); background-size: 14px 14px; background-color: #bd081c; position: absolute; opacity: 1; z-index: 8675309; display: none; cursor: pointer; border: none; -webkit-font-smoothing: antialiased; background-position: 3px 50%; background-repeat: no-repeat no-repeat;">Bewaren
top-right-radius: 2px; border-bottom-right-radius: 2px; border-bottom-left-radius: 2px; text-indent: 20px; width: auto; padding: 0px 4px 0px 0px; text-align: center; font-style: normal; font-variant-caps: normal; font-weight: bold; font-stretch: normal; font-size: 11px; line-height: 20px; font-family: 'Helvetica Neue', Helvetica, sans-serif; color: #ffffff; background-image: url(data:image/svg+xml; base64,phn2zyb4bwxucz0iahr0cdovl3d3dy53my5vcmcvmjawmc9zdmciighlawdodd0imzbwecigd2lkdgg9ijmwchgiihzpzxdcb3g9ii0xic0xidmxidmxij48zz48cgf0acbkpsjnmjkundq5lde0ljy2mibdmjkundq5ldiyljcymiaymi44njgsmjkumju2ide0ljc1ldi5lji1nibdni42mzismjkumju2idaumduxldiyljcymiawlja1mswxnc42njigqzaumduxldyunjaxidyunjmyldaumdy3ide0ljc1ldaumdy3iemymi44njgsmc4wnjcgmjkundq5ldyunjaxidi5ljq0oswxnc42njiiigzpbgw9iinmzmyiihn0cm9rzt0ii2zmziigc3ryb2tllxdpzhropsixij48l3bhdgg+phbhdgggzd0itte0ljczmywxljy4nibdny41mtysms42odygms42njusny40otugms42njusmtqunjyyiemxljy2nswymc4xntkgns4xmdksmjquodu0idkuotcsmjyunzq0iem5ljg1niwyns43mtggos43ntmsmjqumtqzidewljaxniwymy4wmjigqzewlji1mywymi4wmsaxms41ndgsmtyuntcyidexlju0ocwxni41nzigqzexlju0ocwxni41nzigmteumtu3lde1ljc5nsaxms4xntcsmtqunjq2iemxms4xntcsmtiuodqyideyljixmswxms40otugmtmuntiyldexljq5nsbdmtqunjm3ldexljq5nsaxns4xnzusmtiumzi2ide1lje3nswxmy4zmjmgqze1lje3nswxnc40mzygmtqundyylde2ljegmtqumdkzlde3ljy0mybdmtmunzg1lde4ljkznsaxnc43ndusmtkuotg4ide2ljayocwxos45odggqze4ljm1mswxos45odggmjaumtm2lde3lju1niaymc4xmzysmtqumdq2iemymc4xmzysmtauotm5ide3ljg4ocw4ljc2nyaxnc42nzgsoc43njcgqzewljk1osw4ljc2nya4ljc3nywxms41mzygoc43nzcsmtqumzk4iem4ljc3nywxns41mtmgos4ymswxni43mdkgos43ndksmtcumzu5iem5ljg1niwxny40odggos44nzismtcunia5ljg0lde3ljczmsbdos43ndesmtgumtqxidkuntismtkumdizidkundc3lde5ljiwmybdos40miwxos40nca5lji4ocwxos40otegos4wncwxos4znzygqzcunda4lde4ljyymia2ljm4nywxni4yntigni4zodcsmtqumzq5iem2ljm4nywxmc4yntygos4zodmsni40otcgmtuumdiyldyundk3iemxos41ntusni40otcgmjmumdc4ldkunza1idizlja3ocwxmy45otegqzizlja3ocwxoc40njmgmjaumjm5ldiylja2miaxni4yotcsmjiumdyyiemxnc45nzmsmjiumdyyidezljcyocwyms4znzkgmtmumzayldiwlju3mibdmtmumzayldiwlju3miaxmi42ndcsmjmumdugmtiundg4ldizljy1nybdmtiumtkzldi0ljc4ncaxms4zotysmjyumtk2idewljg2mywyny4wntggqzeylja4niwyny40mzqgmtmumzg2ldi3ljyznyaxnc43mzmsmjcunjm3iemyms45nswyny42mzcgmjcuodaxldixljgyocayny44mdesmtqunjyyiemyny44mdesny40otugmjeuotusms42odygmtqunzmzldeunjg2iibmawxspsijymqwodfjij48l3bhdgg+pc9npjwvc3znpg==); background-size: 14px 14px; background-color: #bd081c; position: absolute; opacity: 1; z-index: 8675309; display: none; cursor: pointer; border: none; -webkit-font-smoothing: antialiased; top: 236px; left: 20px; background-position: 3px 50%; background-repeat: no-repeat no-repeat;">Bewarentop-right-radius: 2px; border-bottom-right-radius: 2px; border-bottom-left-radius: 2px; text-indent: 20px; width: auto; padding: 0px 4px 0px 0px; text-align: center; font-style: normal; font-variant-caps: normal; font-weight: bold; font-stretch: normal; font-size: 11px; line-height: 20px; font-family: 'Helvetica Neue', Helvetica, sans-serif; color: #ffffff; background-image: url(data:image/svg+xml; base64,phn2zyb4bwxucz0iahr0cdovl3d3dy53my5vcmcvmjawmc9zdmciighlawdodd0imzbwecigd2lkdgg9ijmwchgiihzpzxdcb3g9ii0xic0xidmxidmxij48zz48cgf0acbkpsjnmjkundq5lde0ljy2mibdmjkundq5ldiyljcymiaymi44njgsmjkumju2ide0ljc1ldi5lji1nibdni42mzismjkumju2idaumduxldiyljcymiawlja1mswxnc42njigqzaumduxldyunjaxidyunjmyldaumdy3ide0ljc1ldaumdy3iemymi44njgsmc4wnjcgmjkundq5ldyunjaxidi5ljq0oswxnc42njiiigzpbgw9iinmzmyiihn0cm9rzt0ii2zmziigc3ryb2tllxdpzhropsixij48l3bhdgg+phbhdgggzd0itte0ljczmywxljy4nibdny41mtysms42odygms42njusny40otugms42njusmtqunjyyiemxljy2nswymc4xntkgns4xmdksmjquodu0idkuotcsmjyunzq0iem5ljg1niwyns43mtggos43ntmsmjqumtqzidewljaxniwymy4wmjigqzewlji1mywymi4wmsaxms41ndgsmtyuntcyidexlju0ocwxni41nzigqzexlju0ocwxni41nzigmteumtu3lde1ljc5nsaxms4xntcsmtqunjq2iemxms4xntcsmtiuodqyideyljixmswxms40otugmtmuntiyldexljq5nsbdmtqunjm3ldexljq5nsaxns4xnzusmtiumzi2ide1lje3nswxmy4zmjmgqze1lje3nswxnc40mzygmtqundyylde2ljegmtqumdkzlde3ljy0mybdmtmunzg1lde4ljkznsaxnc43ndusmtkuotg4ide2ljayocwxos45odggqze4ljm1mswxos45odggmjaumtm2lde3lju1niaymc4xmzysmtqumdq2iemymc4xmzysmtauotm5ide3ljg4ocw4ljc2nyaxnc42nzgsoc43njcgqzewljk1osw4ljc2nya4ljc3nywxms41mzygoc43nzcsmtqumzk4iem4ljc3nywxns41mtmgos4ymswxni43mdkgos43ndksmtcumzu5iem5ljg1niwxny40odggos44nzismtcunia5ljg0lde3ljczmsbdos43ndesmtgumtqxidkuntismtkumdizidkundc3lde5ljiwmybdos40miwxos40nca5lji4ocwxos40otegos4wncwxos4znzygqzcunda4lde4ljyymia2ljm4nywxni4yntigni4zodcsmtqumzq5iem2ljm4nywxmc4yntygos4zodmsni40otcgmtuumdiyldyundk3iemxos41ntusni40otcgmjmumdc4ldkunza1idizlja3ocwxmy45otegqzizlja3ocwxoc40njmgmjaumjm5ldiylja2miaxni4yotcsmjiumdyyiemxnc45nzmsmjiumdyyidezljcyocwyms4znzkgmtmumzayldiwlju3mibdmtmumzayldiwlju3miaxmi42ndcsmjmumdugmtiundg4ldizljy1nybdmtiumtkzldi0ljc4ncaxms4zotysmjyumtk2idewljg2mywyny4wntggqzeylja4niwyny40mzqgmtmumzg2ldi3ljyznyaxnc43mzmsmjcunjm3iemyms45nswyny42mzcgmjcuodaxldixljgyocayny44mdesmtqunjyyiemyny44mdesny40otugmjeuotusms42odygmtqunzmzldeunjg2iibmawxspsijymqwodfjij48l3bhdgg+pc9npjwvc3znpg==); background-size: 14px 14px; background-color: #bd081c; position: absolute; opacity: 1; z-index: 8675309; display: none; cursor: pointer; border: none; -webkit-font-smoothing: antialiased; top: 236px; left: 20px; background-position: 3px 50%; background-repeat: no-repeat no-repeat;">Bewaren
top-right-radius: 2px; border-bottom-right-radius: 2px; border-bottom-left-radius: 2px; text-indent: 20px; width: auto; padding: 0px 4px 0px 0px; text-align: center; font-style: normal; font-variant-caps: normal; font-weight: bold; font-stretch: normal; font-size: 11px; line-height: 20px; font-family: 'Helvetica Neue', Helvetica, sans-serif; color: #ffffff; background-image: url(data:image/svg+xml; base64,phn2zyb4bwxucz0iahr0cdovl3d3dy53my5vcmcvmjawmc9zdmciighlawdodd0imzbwecigd2lkdgg9ijmwchgiihzpzxdcb3g9ii0xic0xidmxidmxij48zz48cgf0acbkpsjnmjkundq5lde0ljy2mibdmjkundq5ldiyljcymiaymi44njgsmjkumju2ide0ljc1ldi5lji1nibdni42mzismjkumju2idaumduxldiyljcymiawlja1mswxnc42njigqzaumduxldyunjaxidyunjmyldaumdy3ide0ljc1ldaumdy3iemymi44njgsmc4wnjcgmjkundq5ldyunjaxidi5ljq0oswxnc42njiiigzpbgw9iinmzmyiihn0cm9rzt0ii2zmziigc3ryb2tllxdpzhropsixij48l3bhdgg+phbhdgggzd0itte0ljczmywxljy4nibdny41mtysms42odygms42njusny40otugms42njusmtqunjyyiemxljy2nswymc4xntkgns4xmdksmjquodu0idkuotcsmjyunzq0iem5ljg1niwyns43mtggos43ntmsmjqumtqzidewljaxniwymy4wmjigqzewlji1mywymi4wmsaxms41ndgsmtyuntcyidexlju0ocwxni41nzigqzexlju0ocwxni41nzigmteumtu3lde1ljc5nsaxms4xntcsmtqunjq2iemxms4xntcsmtiuodqyideyljixmswxms40otugmtmuntiyldexljq5nsbdmtqunjm3ldexljq5nsaxns4xnzusmtiumzi2ide1lje3nswxmy4zmjmgqze1lje3nswxnc40mzygmtqundyylde2ljegmtqumdkzlde3ljy0mybdmtmunzg1lde4ljkznsaxnc43ndusmtkuotg4ide2ljayocwxos45odggqze4ljm1mswxos45odggmjaumtm2lde3lju1niaymc4xmzysmtqumdq2iemymc4xmzysmtauotm5ide3ljg4ocw4ljc2nyaxnc42nzgsoc43njcgqzewljk1osw4ljc2nya4ljc3nywxms41mzygoc43nzcsmtqumzk4iem4ljc3nywxns41mtmgos4ymswxni43mdkgos43ndksmtcumzu5iem5ljg1niwxny40odggos44nzismtcunia5ljg0lde3ljczmsbdos43ndesmtgumtqxidkuntismtkumdizidkundc3lde5ljiwmybdos40miwxos40nca5lji4ocwxos40otegos4wncwxos4znzygqzcunda4lde4ljyymia2ljm4nywxni4yntigni4zodcsmtqumzq5iem2ljm4nywxmc4yntygos4zodmsni40otcgmtuumdiyldyundk3iemxos41ntusni40otcgmjmumdc4ldkunza1idizlja3ocwxmy45otegqzizlja3ocwxoc40njmgmjaumjm5ldiylja2miaxni4yotcsmjiumdyyiemxnc45nzmsmjiumdyyidezljcyocwyms4znzkgmtmumzayldiwlju3mibdmtmumzayldiwlju3miaxmi42ndcsmjmumdugmtiundg4ldizljy1nybdmtiumtkzldi0ljc4ncaxms4zotysmjyumtk2idewljg2mywyny4wntggqzeylja4niwyny40mzqgmtmumzg2ldi3ljyznyaxnc43mzmsmjcunjm3iemyms45nswyny42mzcgmjcuodaxldixljgyocayny44mdesmtqunjyyiemyny44mdesny40otugmjeuotusms42odygmtqunzmzldeunjg2iibmawxspsijymqwodfjij48l3bhdgg+pc9npjwvc3znpg==); background-size: 14px 14px; background-color: #bd081c; position: absolute; opacity: 1; z-index: 8675309; display: none; cursor: pointer; border: none; -webkit-font-smoothing: antialiased; top: 240px; left: 20px; background-position: 3px 50%; background-repeat: no-repeat no-repeat;">Bewarentop-right-radius: 2px; border-bottom-right-radius: 2px; border-bottom-left-radius: 2px; text-indent: 20px; width: auto; padding: 0px 4px 0px 0px; text-align: center; font-style: normal; font-variant-caps: normal; font-weight: bold; font-stretch: normal; font-size: 11px; line-height: 20px; font-family: 'Helvetica Neue', Helvetica, sans-serif; color: #ffffff; background-image: url(data:image/svg+xml; base64,phn2zyb4bwxucz0iahr0cdovl3d3dy53my5vcmcvmjawmc9zdmciighlawdodd0imzbwecigd2lkdgg9ijmwchgiihzpzxdcb3g9ii0xic0xidmxidmxij48zz48cgf0acbkpsjnmjkundq5lde0ljy2mibdmjkundq5ldiyljcymiaymi44njgsmjkumju2ide0ljc1ldi5lji1nibdni42mzismjkumju2idaumduxldiyljcymiawlja1mswxnc42njigqzaumduxldyunjaxidyunjmyldaumdy3ide0ljc1ldaumdy3iemymi44njgsmc4wnjcgmjkundq5ldyunjaxidi5ljq0oswxnc42njiiigzpbgw9iinmzmyiihn0cm9rzt0ii2zmziigc3ryb2tllxdpzhropsixij48l3bhdgg+phbhdgggzd0itte0ljczmywxljy4nibdny41mtysms42odygms42njusny40otugms42njusmtqunjyyiemxljy2nswymc4xntkgns4xmdksmjquodu0idkuotcsmjyunzq0iem5ljg1niwyns43mtggos43ntmsmjqumtqzidewljaxniwymy4wmjigqzewlji1mywymi4wmsaxms41ndgsmtyuntcyidexlju0ocwxni41nzigqzexlju0ocwxni41nzigmteumtu3lde1ljc5nsaxms4xntcsmtqunjq2iemxms4xntcsmtiuodqyideyljixmswxms40otugmtmuntiyldexljq5nsbdmtqunjm3ldexljq5nsaxns4xnzusmtiumzi2ide1lje3nswxmy4zmjmgqze1lje3nswxnc40mzygmtqundyylde2ljegmtqumdkzlde3ljy0mybdmtmunzg1lde4ljkznsaxnc43ndusmtkuotg4ide2ljayocwxos45odggqze4ljm1mswxos45odggmjaumtm2lde3lju1niaymc4xmzysmtqumdq2iemymc4xmzysmtauotm5ide3ljg4ocw4ljc2nyaxnc42nzgsoc43njcgqzewljk1osw4ljc2nya4ljc3nywxms41mzygoc43nzcsmtqumzk4iem4ljc3nywxns41mtmgos4ymswxni43mdkgos43ndksmtcumzu5iem5ljg1niwxny40odggos44nzismtcunia5ljg0lde3ljczmsbdos43ndesmtgumtqxidkuntismtkumdizidkundc3lde5ljiwmybdos40miwxos40nca5lji4ocwxos40otegos4wncwxos4znzygqzcunda4lde4ljyymia2ljm4nywxni4yntigni4zodcsmtqumzq5iem2ljm4nywxmc4yntygos4zodmsni40otcgmtuumdiyldyundk3iemxos41ntusni40otcgmjmumdc4ldkunza1idizlja3ocwxmy45otegqzizlja3ocwxoc40njmgmjaumjm5ldiylja2miaxni4yotcsmjiumdyyiemxnc45nzmsmjiumdyyidezljcyocwyms4znzkgmtmumzayldiwlju3mibdmtmumzayldiwlju3miaxmi42ndcsmjmumdugmtiundg4ldizljy1nybdmtiumtkzldi0ljc4ncaxms4zotysmjyumtk2idewljg2mywyny4wntggqzeylja4niwyny40mzqgmtmumzg2ldi3ljyznyaxnc43mzmsmjcunjm3iemyms45nswyny42mzcgmjcuodaxldixljgyocayny44mdesmtqunjyyiemyny44mdesny40otugmjeuotusms42odygmtqunzmzldeunjg2iibmawxspsijymqwodfjij48l3bhdgg+pc9npjwvc3znpg==); background-size: 14px 14px; background-color: #bd081c; position: absolute; opacity: 1; z-index: 8675309; display: none; cursor: pointer; border: none; -webkit-font-smoothing: antialiased; top: 240px; left: 20px; background-position: 3px 50%; background-repeat: no-repeat no-repeat;">Bewaren
top-right-radius: 2px; border-bottom-right-radius: 2px; border-bottom-left-radius: 2px; text-indent: 20px; width: auto; padding: 0px 4px 0px 0px; text-align: center; font-style: normal; font-variant-caps: normal; font-weight: bold; font-stretch: normal; font-size: 11px; line-height: 20px; font-family: 'Helvetica Neue', Helvetica, sans-serif; color: #ffffff; background-image: url(data:image/svg+xml; base64,phn2zyb4bwxucz0iahr0cdovl3d3dy53my5vcmcvmjawmc9zdmciighlawdodd0imzbwecigd2lkdgg9ijmwchgiihzpzxdcb3g9ii0xic0xidmxidmxij48zz48cgf0acbkpsjnmjkundq5lde0ljy2mibdmjkundq5ldiyljcymiaymi44njgsmjkumju2ide0ljc1ldi5lji1nibdni42mzismjkumju2idaumduxldiyljcymiawlja1mswxnc42njigqzaumduxldyunjaxidyunjmyldaumdy3ide0ljc1ldaumdy3iemymi44njgsmc4wnjcgmjkundq5ldyunjaxidi5ljq0oswxnc42njiiigzpbgw9iinmzmyiihn0cm9rzt0ii2zmziigc3ryb2tllxdpzhropsixij48l3bhdgg+phbhdgggzd0itte0ljczmywxljy4nibdny41mtysms42odygms42njusny40otugms42njusmtqunjyyiemxljy2nswymc4xntkgns4xmdksmjquodu0idkuotcsmjyunzq0iem5ljg1niwyns43mtggos43ntmsmjqumtqzidewljaxniwymy4wmjigqzewlji1mywymi4wmsaxms41ndgsmtyuntcyidexlju0ocwxni41nzigqzexlju0ocwxni41nzigmteumtu3lde1ljc5nsaxms4xntcsmtqunjq2iemxms4xntcsmtiuodqyideyljixmswxms40otugmtmuntiyldexljq5nsbdmtqunjm3ldexljq5nsaxns4xnzusmtiumzi2ide1lje3nswxmy4zmjmgqze1lje3nswxnc40mzygmtqundyylde2ljegmtqumdkzlde3ljy0mybdmtmunzg1lde4ljkznsaxnc43ndusmtkuotg4ide2ljayocwxos45odggqze4ljm1mswxos45odggmjaumtm2lde3lju1niaymc4xmzysmtqumdq2iemymc4xmzysmtauotm5ide3ljg4ocw4ljc2nyaxnc42nzgsoc43njcgqzewljk1osw4ljc2nya4ljc3nywxms41mzygoc43nzcsmtqumzk4iem4ljc3nywxns41mtmgos4ymswxni43mdkgos43ndksmtcumzu5iem5ljg1niwxny40odggos44nzismtcunia5ljg0lde3ljczmsbdos43ndesmtgumtqxidkuntismtkumdizidkundc3lde5ljiwmybdos40miwxos40nca5lji4ocwxos40otegos4wncwxos4znzygqzcunda4lde4ljyymia2ljm4nywxni4yntigni4zodcsmtqumzq5iem2ljm4nywxmc4yntygos4zodmsni40otcgmtuumdiyldyundk3iemxos41ntusni40otcgmjmumdc4ldkunza1idizlja3ocwxmy45otegqzizlja3ocwxoc40njmgmjaumjm5ldiylja2miaxni4yotcsmjiumdyyiemxnc45nzmsmjiumdyyidezljcyocwyms4znzkgmtmumzayldiwlju3mibdmtmumzayldiwlju3miaxmi42ndcsmjmumdugmtiundg4ldizljy1nybdmtiumtkzldi0ljc4ncaxms4zotysmjyumtk2idewljg2mywyny4wntggqzeylja4niwyny40mzqgmtmumzg2ldi3ljyznyaxnc43mzmsmjcunjm3iemyms45nswyny42mzcgmjcuodaxldixljgyocayny44mdesmtqunjyyiemyny44mdesny40otugmjeuotusms42odygmtqunzmzldeunjg2iibmawxspsijymqwodfjij48l3bhdgg+pc9npjwvc3znpg==); background-size: 14px 14px; background-color: #bd081c; position: absolute; opacity: 1; z-index: 8675309; display: none; cursor: pointer; border: none; -webkit-font-smoothing: antialiased; top: 240px; left: 20px; background-position: 3px 50%; background-repeat: no-repeat no-repeat;">Bewarentop-right-radius: 2px; border-bottom-right-radius: 2px; border-bottom-left-radius: 2px; text-indent: 20px; width: auto; padding: 0px 4px 0px 0px; text-align: center; font-style: normal; font-variant-caps: normal; font-weight: bold; font-stretch: normal; font-size: 11px; line-height: 20px; font-family: 'Helvetica Neue', Helvetica, sans-serif; color: #ffffff; background-image: url(data:image/svg+xml; base64,phn2zyb4bwxucz0iahr0cdovl3d3dy53my5vcmcvmjawmc9zdmciighlawdodd0imzbwecigd2lkdgg9ijmwchgiihzpzxdcb3g9ii0xic0xidmxidmxij48zz48cgf0acbkpsjnmjkundq5lde0ljy2mibdmjkundq5ldiyljcymiaymi44njgsmjkumju2ide0ljc1ldi5lji1nibdni42mzismjkumju2idaumduxldiyljcymiawlja1mswxnc42njigqzaumduxldyunjaxidyunjmyldaumdy3ide0ljc1ldaumdy3iemymi44njgsmc4wnjcgmjkundq5ldyunjaxidi5ljq0oswxnc42njiiigzpbgw9iinmzmyiihn0cm9rzt0ii2zmziigc3ryb2tllxdpzhropsixij48l3bhdgg+phbhdgggzd0itte0ljczmywxljy4nibdny41mtysms42odygms42njusny40otugms42njusmtqunjyyiemxljy2nswymc4xntkgns4xmdksmjquodu0idkuotcsmjyunzq0iem5ljg1niwyns43mtggos43ntmsmjqumtqzidewljaxniwymy4wmjigqzewlji1mywymi4wmsaxms41ndgsmtyuntcyidexlju0ocwxni41nzigqzexlju0ocwxni41nzigmteumtu3lde1ljc5nsaxms4xntcsmtqunjq2iemxms4xntcsmtiuodqyideyljixmswxms40otugmtmuntiyldexljq5nsbdmtqunjm3ldexljq5nsaxns4xnzusmtiumzi2ide1lje3nswxmy4zmjmgqze1lje3nswxnc40mzygmtqundyylde2ljegmtqumdkzlde3ljy0mybdmtmunzg1lde4ljkznsaxnc43ndusmtkuotg4ide2ljayocwxos45odggqze4ljm1mswxos45odggmjaumtm2lde3lju1niaymc4xmzysmtqumdq2iemymc4xmzysmtauotm5ide3ljg4ocw4ljc2nyaxnc42nzgsoc43njcgqzewljk1osw4ljc2nya4ljc3nywxms41mzygoc43nzcsmtqumzk4iem4ljc3nywxns41mtmgos4ymswxni43mdkgos43ndksmtcumzu5iem5ljg1niwxny40odggos44nzismtcunia5ljg0lde3ljczmsbdos43ndesmtgumtqxidkuntismtkumdizidkundc3lde5ljiwmybdos40miwxos40nca5lji4ocwxos40otegos4wncwxos4znzygqzcunda4lde4ljyymia2ljm4nywxni4yntigni4zodcsmtqumzq5iem2ljm4nywxmc4yntygos4zodmsni40otcgmtuumdiyldyundk3iemxos41ntusni40otcgmjmumdc4ldkunza1idizlja3ocwxmy45otegqzizlja3ocwxoc40njmgmjaumjm5ldiylja2miaxni4yotcsmjiumdyyiemxnc45nzmsmjiumdyyidezljcyocwyms4znzkgmtmumzayldiwlju3mibdmtmumzayldiwlju3miaxmi42ndcsmjmumdugmtiundg4ldizljy1nybdmtiumtkzldi0ljc4ncaxms4zotysmjyumtk2idewljg2mywyny4wntggqzeylja4niwyny40mzqgmtmumzg2ldi3ljyznyaxnc43mzmsmjcunjm3iemyms45nswyny42mzcgmjcuodaxldixljgyocayny44mdesmtqunjyyiemyny44mdesny40otugmjeuotusms42odygmtqunzmzldeunjg2iibmawxspsijymqwodfjij48l3bhdgg+pc9npjwvc3znpg==); background-size: 14px 14px; background-color: #bd081c; position: absolute; opacity: 1; z-index: 8675309; display: none; cursor: pointer; border: none; -webkit-font-smoothing: antialiased; top: 240px; left: 20px; background-position: 3px 50%; background-repeat: no-repeat no-repeat;">Bewaren
top-right-radius: 2px; border-bottom-right-radius: 2px; border-bottom-left-radius: 2px; text-indent: 20px; width: auto; padding: 0px 4px 0px 0px; text-align: center; font-style: normal; font-variant-caps: normal; font-weight: bold; font-stretch: normal; font-size: 11px; line-height: 20px; font-family: 'Helvetica Neue', Helvetica, sans-serif; color: #ffffff; background-image: url(data:image/svg+xml; base64,phn2zyb4bwxucz0iahr0cdovl3d3dy53my5vcmcvmjawmc9zdmciighlawdodd0imzbwecigd2lkdgg9ijmwchgiihzpzxdcb3g9ii0xic0xidmxidmxij48zz48cgf0acbkpsjnmjkundq5lde0ljy2mibdmjkundq5ldiyljcymiaymi44njgsmjkumju2ide0ljc1ldi5lji1nibdni42mzismjkumju2idaumduxldiyljcymiawlja1mswxnc42njigqzaumduxldyunjaxidyunjmyldaumdy3ide0ljc1ldaumdy3iemymi44njgsmc4wnjcgmjkundq5ldyunjaxidi5ljq0oswxnc42njiiigzpbgw9iinmzmyiihn0cm9rzt0ii2zmziigc3ryb2tllxdpzhropsixij48l3bhdgg+phbhdgggzd0itte0ljczmywxljy4nibdny41mtysms42odygms42njusny40otugms42njusmtqunjyyiemxljy2nswymc4xntkgns4xmdksmjquodu0idkuotcsmjyunzq0iem5ljg1niwyns43mtggos43ntmsmjqumtqzidewljaxniwymy4wmjigqzewlji1mywymi4wmsaxms41ndgsmtyuntcyidexlju0ocwxni41nzigqzexlju0ocwxni41nzigmteumtu3lde1ljc5nsaxms4xntcsmtqunjq2iemxms4xntcsmtiuodqyideyljixmswxms40otugmtmuntiyldexljq5nsbdmtqunjm3ldexljq5nsaxns4xnzusmtiumzi2ide1lje3nswxmy4zmjmgqze1lje3nswxnc40mzygmtqundyylde2ljegmtqumdkzlde3ljy0mybdmtmunzg1lde4ljkznsaxnc43ndusmtkuotg4ide2ljayocwxos45odggqze4ljm1mswxos45odggmjaumtm2lde3lju1niaymc4xmzysmtqumdq2iemymc4xmzysmtauotm5ide3ljg4ocw4ljc2nyaxnc42nzgsoc43njcgqzewljk1osw4ljc2nya4ljc3nywxms41mzygoc43nzcsmtqumzk4iem4ljc3nywxns41mtmgos4ymswxni43mdkgos43ndksmtcumzu5iem5ljg1niwxny40odggos44nzismtcunia5ljg0lde3ljczmsbdos43ndesmtgumtqxidkuntismtkumdizidkundc3lde5ljiwmybdos40miwxos40nca5lji4ocwxos40otegos4wncwxos4znzygqzcunda4lde4ljyymia2ljm4nywxni4yntigni4zodcsmtqumzq5iem2ljm4nywxmc4yntygos4zodmsni40otcgmtuumdiyldyundk3iemxos41ntusni40otcgmjmumdc4ldkunza1idizlja3ocwxmy45otegqzizlja3ocwxoc40njmgmjaumjm5ldiylja2miaxni4yotcsmjiumdyyiemxnc45nzmsmjiumdyyidezljcyocwyms4znzkgmtmumzayldiwlju3mibdmtmumzayldiwlju3miaxmi42ndcsmjmumdugmtiundg4ldizljy1nybdmtiumtkzldi0ljc4ncaxms4zotysmjyumtk2idewljg2mywyny4wntggqzeylja4niwyny40mzqgmtmumzg2ldi3ljyznyaxnc43mzmsmjcunjm3iemyms45nswyny42mzcgmjcuodaxldixljgyocayny44mdesmtqunjyyiemyny44mdesny40otugmjeuotusms42odygmtqunzmzldeunjg2iibmawxspsijymqwodfjij48l3bhdgg+pc9npjwvc3znpg==); background-size: 14px 14px; background-color: #bd081c; position: absolute; opacity: 1; z-index: 8675309; display: none; cursor: pointer; border: none; -webkit-font-smoothing: antialiased; top: 240px; left: 20px; background-position: 3px 50%; background-repeat: no-repeat no-repeat;">Bewarentop-right-radius: 2px; border-bottom-right-radius: 2px; border-bottom-left-radius: 2px; text-indent: 20px; width: auto; padding: 0px 4px 0px 0px; text-align: center; font-style: normal; font-variant-caps: normal; font-weight: bold; font-stretch: normal; font-size: 11px; line-height: 20px; font-family: 'Helvetica Neue', Helvetica, sans-serif; color: #ffffff; background-image: url(data:image/svg+xml; base64,phn2zyb4bwxucz0iahr0cdovl3d3dy53my5vcmcvmjawmc9zdmciighlawdodd0imzbwecigd2lkdgg9ijmwchgiihzpzxdcb3g9ii0xic0xidmxidmxij48zz48cgf0acbkpsjnmjkundq5lde0ljy2mibdmjkundq5ldiyljcymiaymi44njgsmjkumju2ide0ljc1ldi5lji1nibdni42mzismjkumju2idaumduxldiyljcymiawlja1mswxnc42njigqzaumduxldyunjaxidyunjmyldaumdy3ide0ljc1ldaumdy3iemymi44njgsmc4wnjcgmjkundq5ldyunjaxidi5ljq0oswxnc42njiiigzpbgw9iinmzmyiihn0cm9rzt0ii2zmziigc3ryb2tllxdpzhropsixij48l3bhdgg+phbhdgggzd0itte0ljczmywxljy4nibdny41mtysms42odygms42njusny40otugms42njusmtqunjyyiemxljy2nswymc4xntkgns4xmdksmjquodu0idkuotcsmjyunzq0iem5ljg1niwyns43mtggos43ntmsmjqumtqzidewljaxniwymy4wmjigqzewlji1mywymi4wmsaxms41ndgsmtyuntcyidexlju0ocwxni41nzigqzexlju0ocwxni41nzigmteumtu3lde1ljc5nsaxms4xntcsmtqunjq2iemxms4xntcsmtiuodqyideyljixmswxms40otugmtmuntiyldexljq5nsbdmtqunjm3ldexljq5nsaxns4xnzusmtiumzi2ide1lje3nswxmy4zmjmgqze1lje3nswxnc40mzygmtqundyylde2ljegmtqumdkzlde3ljy0mybdmtmunzg1lde4ljkznsaxnc43ndusmtkuotg4ide2ljayocwxos45odggqze4ljm1mswxos45odggmjaumtm2lde3lju1niaymc4xmzysmtqumdq2iemymc4xmzysmtauotm5ide3ljg4ocw4ljc2nyaxnc42nzgsoc43njcgqzewljk1osw4ljc2nya4ljc3nywxms41mzygoc43nzcsmtqumzk4iem4ljc3nywxns41mtmgos4ymswxni43mdkgos43ndksmtcumzu5iem5ljg1niwxny40odggos44nzismtcunia5ljg0lde3ljczmsbdos43ndesmtgumtqxidkuntismtkumdizidkundc3lde5ljiwmybdos40miwxos40nca5lji4ocwxos40otegos4wncwxos4znzygqzcunda4lde4ljyymia2ljm4nywxni4yntigni4zodcsmtqumzq5iem2ljm4nywxmc4yntygos4zodmsni40otcgmtuumdiyldyundk3iemxos41ntusni40otcgmjmumdc4ldkunza1idizlja3ocwxmy45otegqzizlja3ocwxoc40njmgmjaumjm5ldiylja2miaxni4yotcsmjiumdyyiemxnc45nzmsmjiumdyyidezljcyocwyms4znzkgmtmumzayldiwlju3mibdmtmumzayldiwlju3miaxmi42ndcsmjmumdugmtiundg4ldizljy1nybdmtiumtkzldi0ljc4ncaxms4zotysmjyumtk2idewljg2mywyny4wntggqzeylja4niwyny40mzqgmtmumzg2ldi3ljyznyaxnc43mzmsmjcunjm3iemyms45nswyny42mzcgmjcuodaxldixljgyocayny44mdesmtqunjyyiemyny44mdesny40otugmjeuotusms42odygmtqunzmzldeunjg2iibmawxspsijymqwodfjij48l3bhdgg+pc9npjwvc3znpg==); background-size: 14px 14px; background-color: #bd081c; position: absolute; opacity: 1; z-index: 8675309; display: none; cursor: pointer; border: none; -webkit-font-smoothing: antialiased; top: 240px; left: 20px; background-position: 3px 50%; background-repeat: no-repeat no-repeat;">Bewaren
top-right-radius: 2px; border-bottom-right-radius: 2px; border-bottom-left-radius: 2px; text-indent: 20px; width: auto; padding: 0px 4px 0px 0px; text-align: center; font-style: normal; font-variant-caps: normal; font-weight: bold; font-stretch: normal; font-size: 11px; line-height: 20px; font-family: 'Helvetica Neue', Helvetica, sans-serif; color: #ffffff; background-image: url(data:image/svg+xml; base64,phn2zyb4bwxucz0iahr0cdovl3d3dy53my5vcmcvmjawmc9zdmciighlawdodd0imzbwecigd2lkdgg9ijmwchgiihzpzxdcb3g9ii0xic0xidmxidmxij48zz48cgf0acbkpsjnmjkundq5lde0ljy2mibdmjkundq5ldiyljcymiaymi44njgsmjkumju2ide0ljc1ldi5lji1nibdni42mzismjkumju2idaumduxldiyljcymiawlja1mswxnc42njigqzaumduxldyunjaxidyunjmyldaumdy3ide0ljc1ldaumdy3iemymi44njgsmc4wnjcgmjkundq5ldyunjaxidi5ljq0oswxnc42njiiigzpbgw9iinmzmyiihn0cm9rzt0ii2zmziigc3ryb2tllxdpzhropsixij48l3bhdgg+phbhdgggzd0itte0ljczmywxljy4nibdny41mtysms42odygms42njusny40otugms42njusmtqunjyyiemxljy2nswymc4xntkgns4xmdksmjquodu0idkuotcsmjyunzq0iem5ljg1niwyns43mtggos43ntmsmjqumtqzidewljaxniwymy4wmjigqzewlji1mywymi4wmsaxms41ndgsmtyuntcyidexlju0ocwxni41nzigqzexlju0ocwxni41nzigmteumtu3lde1ljc5nsaxms4xntcsmtqunjq2iemxms4xntcsmtiuodqyideyljixmswxms40otugmtmuntiyldexljq5nsbdmtqunjm3ldexljq5nsaxns4xnzusmtiumzi2ide1lje3nswxmy4zmjmgqze1lje3nswxnc40mzygmtqundyylde2ljegmtqumdkzlde3ljy0mybdmtmunzg1lde4ljkznsaxnc43ndusmtkuotg4ide2ljayocwxos45odggqze4ljm1mswxos45odggmjaumtm2lde3lju1niaymc4xmzysmtqumdq2iemymc4xmzysmtauotm5ide3ljg4ocw4ljc2nyaxnc42nzgsoc43njcgqzewljk1osw4ljc2nya4ljc3nywxms41mzygoc43nzcsmtqumzk4iem4ljc3nywxns41mtmgos4ymswxni43mdkgos43ndksmtcumzu5iem5ljg1niwxny40odggos44nzismtcunia5ljg0lde3ljczmsbdos43ndesmtgumtqxidkuntismtkumdizidkundc3lde5ljiwmybdos40miwxos40nca5lji4ocwxos40otegos4wncwxos4znzygqzcunda4lde4ljyymia2ljm4nywxni4yntigni4zodcsmtqumzq5iem2ljm4nywxmc4yntygos4zodmsni40otcgmtuumdiyldyundk3iemxos41ntusni40otcgmjmumdc4ldkunza1idizlja3ocwxmy45otegqzizlja3ocwxoc40njmgmjaumjm5ldiylja2miaxni4yotcsmjiumdyyiemxnc45nzmsmjiumdyyidezljcyocwyms4znzkgmtmumzayldiwlju3mibdmtmumzayldiwlju3miaxmi42ndcsmjmumdugmtiundg4ldizljy1nybdmtiumtkzldi0ljc4ncaxms4zotysmjyumtk2idewljg2mywyny4wntggqzeylja4niwyny40mzqgmtmumzg2ldi3ljyznyaxnc43mzmsmjcunjm3iemyms45nswyny42mzcgmjcuodaxldixljgyocayny44mdesmtqunjyyiemyny44mdesny40otugmjeuotusms42odygmtqunzmzldeunjg2iibmawxspsijymqwodfjij48l3bhdgg+pc9npjwvc3znpg==); background-size: 14px 14px; background-color: #bd081c; position: absolute; opacity: 1; z-index: 8675309; display: none; cursor: pointer; border: none; -webkit-font-smoothing: antialiased; top: 240px; left: 20px; background-position: 3px 50%; background-repeat: no-repeat no-repeat;">Bewarentop-right-radius: 2px; border-bottom-right-radius: 2px; border-bottom-left-radius: 2px; text-indent: 20px; width: auto; padding: 0px 4px 0px 0px; text-align: center; font-style: normal; font-variant-caps: normal; font-weight: bold; font-stretch: normal; font-size: 11px; line-height: 20px; font-family: 'Helvetica Neue', Helvetica, sans-serif; color: #ffffff; background-image: url(data:image/svg+xml; base64,phn2zyb4bwxucz0iahr0cdovl3d3dy53my5vcmcvmjawmc9zdmciighlawdodd0imzbwecigd2lkdgg9ijmwchgiihzpzxdcb3g9ii0xic0xidmxidmxij48zz48cgf0acbkpsjnmjkundq5lde0ljy2mibdmjkundq5ldiyljcymiaymi44njgsmjkumju2ide0ljc1ldi5lji1nibdni42mzismjkumju2idaumduxldiyljcymiawlja1mswxnc42njigqzaumduxldyunjaxidyunjmyldaumdy3ide0ljc1ldaumdy3iemymi44njgsmc4wnjcgmjkundq5ldyunjaxidi5ljq0oswxnc42njiiigzpbgw9iinmzmyiihn0cm9rzt0ii2zmziigc3ryb2tllxdpzhropsixij48l3bhdgg+phbhdgggzd0itte0ljczmywxljy4nibdny41mtysms42odygms42njusny40otugms42njusmtqunjyyiemxljy2nswymc4xntkgns4xmdksmjquodu0idkuotcsmjyunzq0iem5ljg1niwyns43mtggos43ntmsmjqumtqzidewljaxniwymy4wmjigqzewlji1mywymi4wmsaxms41ndgsmtyuntcyidexlju0ocwxni41nzigqzexlju0ocwxni41nzigmteumtu3lde1ljc5nsaxms4xntcsmtqunjq2iemxms4xntcsmtiuodqyideyljixmswxms40otugmtmuntiyldexljq5nsbdmtqunjm3ldexljq5nsaxns4xnzusmtiumzi2ide1lje3nswxmy4zmjmgqze1lje3nswxnc40mzygmtqundyylde2ljegmtqumdkzlde3ljy0mybdmtmunzg1lde4ljkznsaxnc43ndusmtkuotg4ide2ljayocwxos45odggqze4ljm1mswxos45odggmjaumtm2lde3lju1niaymc4xmzysmtqumdq2iemymc4xmzysmtauotm5ide3ljg4ocw4ljc2nyaxnc42nzgsoc43njcgqzewljk1osw4ljc2nya4ljc3nywxms41mzygoc43nzcsmtqumzk4iem4ljc3nywxns41mtmgos4ymswxni43mdkgos43ndksmtcumzu5iem5ljg1niwxny40odggos44nzismtcunia5ljg0lde3ljczmsbdos43ndesmtgumtqxidkuntismtkumdizidkundc3lde5ljiwmybdos40miwxos40nca5lji4ocwxos40otegos4wncwxos4znzygqzcunda4lde4ljyymia2ljm4nywxni4yntigni4zodcsmtqumzq5iem2ljm4nywxmc4yntygos4zodmsni40otcgmtuumdiyldyundk3iemxos41ntusni40otcgmjmumdc4ldkunza1idizlja3ocwxmy45otegqzizlja3ocwxoc40njmgmjaumjm5ldiylja2miaxni4yotcsmjiumdyyiemxnc45nzmsmjiumdyyidezljcyocwyms4znzkgmtmumzayldiwlju3mibdmtmumzayldiwlju3miaxmi42ndcsmjmumdugmtiundg4ldizljy1nybdmtiumtkzldi0ljc4ncaxms4zotysmjyumtk2idewljg2mywyny4wntggqzeylja4niwyny40mzqgmtmumzg2ldi3ljyznyaxnc43mzmsmjcunjm3iemyms45nswyny42mzcgmjcuodaxldixljgyocayny44mdesmtqunjyyiemyny44mdesny40otugmjeuotusms42odygmtqunzmzldeunjg2iibmawxspsijymqwodfjij48l3bhdgg+pc9npjwvc3znpg==); background-size: 14px 14px; background-color: #bd081c; position: absolute; opacity: 1; z-index: 8675309; display: none; cursor: pointer; border: none; -webkit-font-smoothing: antialiased; top: 240px; left: 20px; background-position: 3px 50%; background-repeat: no-repeat no-repeat;">Bewaren
top-right-radius: 2px; border-bottom-right-radius: 2px; border-bottom-left-radius: 2px; text-indent: 20px; width: auto; padding: 0px 4px 0px 0px; text-align: center; font-style: normal; font-variant-caps: normal; font-weight: bold; font-stretch: normal; font-size: 11px; line-height: 20px; font-family: 'Helvetica Neue', Helvetica, sans-serif; color: #ffffff; background-image: url(data:image/svg+xml; base64,phn2zyb4bwxucz0iahr0cdovl3d3dy53my5vcmcvmjawmc9zdmciighlawdodd0imzbwecigd2lkdgg9ijmwchgiihzpzxdcb3g9ii0xic0xidmxidmxij48zz48cgf0acbkpsjnmjkundq5lde0ljy2mibdmjkundq5ldiyljcymiaymi44njgsmjkumju2ide0ljc1ldi5lji1nibdni42mzismjkumju2idaumduxldiyljcymiawlja1mswxnc42njigqzaumduxldyunjaxidyunjmyldaumdy3ide0ljc1ldaumdy3iemymi44njgsmc4wnjcgmjkundq5ldyunjaxidi5ljq0oswxnc42njiiigzpbgw9iinmzmyiihn0cm9rzt0ii2zmziigc3ryb2tllxdpzhropsixij48l3bhdgg+phbhdgggzd0itte0ljczmywxljy4nibdny41mtysms42odygms42njusny40otugms42njusmtqunjyyiemxljy2nswymc4xntkgns4xmdksmjquodu0idkuotcsmjyunzq0iem5ljg1niwyns43mtggos43ntmsmjqumtqzidewljaxniwymy4wmjigqzewlji1mywymi4wmsaxms41ndgsmtyuntcyidexlju0ocwxni41nzigqzexlju0ocwxni41nzigmteumtu3lde1ljc5nsaxms4xntcsmtqunjq2iemxms4xntcsmtiuodqyideyljixmswxms40otugmtmuntiyldexljq5nsbdmtqunjm3ldexljq5nsaxns4xnzusmtiumzi2ide1lje3nswxmy4zmjmgqze1lje3nswxnc40mzygmtqundyylde2ljegmtqumdkzlde3ljy0mybdmtmunzg1lde4ljkznsaxnc43ndusmtkuotg4ide2ljayocwxos45odggqze4ljm1mswxos45odggmjaumtm2lde3lju1niaymc4xmzysmtqumdq2iemymc4xmzysmtauotm5ide3ljg4ocw4ljc2nyaxnc42nzgsoc43njcgqzewljk1osw4ljc2nya4ljc3nywxms41mzygoc43nzcsmtqumzk4iem4ljc3nywxns41mtmgos4ymswxni43mdkgos43ndksmtcumzu5iem5ljg1niwxny40odggos44nzismtcunia5ljg0lde3ljczmsbdos43ndesmtgumtqxidkuntismtkumdizidkundc3lde5ljiwmybdos40miwxos40nca5lji4ocwxos40otegos4wncwxos4znzygqzcunda4lde4ljyymia2ljm4nywxni4yntigni4zodcsmtqumzq5iem2ljm4nywxmc4yntygos4zodmsni40otcgmtuumdiyldyundk3iemxos41ntusni40otcgmjmumdc4ldkunza1idizlja3ocwxmy45otegqzizlja3ocwxoc40njmgmjaumjm5ldiylja2miaxni4yotcsmjiumdyyiemxnc45nzmsmjiumdyyidezljcyocwyms4znzkgmtmumzayldiwlju3mibdmtmumzayldiwlju3miaxmi42ndcsmjmumdugmtiundg4ldizljy1nybdmtiumtkzldi0ljc4ncaxms4zotysmjyumtk2idewljg2mywyny4wntggqzeylja4niwyny40mzqgmtmumzg2ldi3ljyznyaxnc43mzmsmjcunjm3iemyms45nswyny42mzcgmjcuodaxldixljgyocayny44mdesmtqunjyyiemyny44mdesny40otugmjeuotusms42odygmtqunzmzldeunjg2iibmawxspsijymqwodfjij48l3bhdgg+pc9npjwvc3znpg==); background-size: 14px 14px; background-color: #bd081c; position: absolute; opacity: 1; z-index: 8675309; display: none; cursor: pointer; border: none; -webkit-font-smoothing: antialiased; background-position: 3px 50%; background-repeat: no-repeat no-repeat;">Bewarentop-right-radius: 2px; border-bottom-right-radius: 2px; border-bottom-left-radius: 2px; text-indent: 20px; width: auto; padding: 0px 4px 0px 0px; text-align: center; font-style: normal; font-variant-caps: normal; font-weight: bold; font-stretch: normal; font-size: 11px; line-height: 20px; font-family: 'Helvetica Neue', Helvetica, sans-serif; color: #ffffff; background-image: url(data:image/svg+xml; base64,phn2zyb4bwxucz0iahr0cdovl3d3dy53my5vcmcvmjawmc9zdmciighlawdodd0imzbwecigd2lkdgg9ijmwchgiihzpzxdcb3g9ii0xic0xidmxidmxij48zz48cgf0acbkpsjnmjkundq5lde0ljy2mibdmjkundq5ldiyljcymiaymi44njgsmjkumju2ide0ljc1ldi5lji1nibdni42mzismjkumju2idaumduxldiyljcymiawlja1mswxnc42njigqzaumduxldyunjaxidyunjmyldaumdy3ide0ljc1ldaumdy3iemymi44njgsmc4wnjcgmjkundq5ldyunjaxidi5ljq0oswxnc42njiiigzpbgw9iinmzmyiihn0cm9rzt0ii2zmziigc3ryb2tllxdpzhropsixij48l3bhdgg+phbhdgggzd0itte0ljczmywxljy4nibdny41mtysms42odygms42njusny40otugms42njusmtqunjyyiemxljy2nswymc4xntkgns4xmdksmjquodu0idkuotcsmjyunzq0iem5ljg1niwyns43mtggos43ntmsmjqumtqzidewljaxniwymy4wmjigqzewlji1mywymi4wmsaxms41ndgsmtyuntcyidexlju0ocwxni41nzigqzexlju0ocwxni41nzigmteumtu3lde1ljc5nsaxms4xntcsmtqunjq2iemxms4xntcsmtiuodqyideyljixmswxms40otugmtmuntiyldexljq5nsbdmtqunjm3ldexljq5nsaxns4xnzusmtiumzi2ide1lje3nswxmy4zmjmgqze1lje3nswxnc40mzygmtqundyylde2ljegmtqumdkzlde3ljy0mybdmtmunzg1lde4ljkznsaxnc43ndusmtkuotg4ide2ljayocwxos45odggqze4ljm1mswxos45odggmjaumtm2lde3lju1niaymc4xmzysmtqumdq2iemymc4xmzysmtauotm5ide3ljg4ocw4ljc2nyaxnc42nzgsoc43njcgqzewljk1osw4ljc2nya4ljc3nywxms41mzygoc43nzcsmtqumzk4iem4ljc3nywxns41mtmgos4ymswxni43mdkgos43ndksmtcumzu5iem5ljg1niwxny40odggos44nzismtcunia5ljg0lde3ljczmsbdos43ndesmtgumtqxidkuntismtkumdizidkundc3lde5ljiwmybdos40miwxos40nca5lji4ocwxos40otegos4wncwxos4znzygqzcunda4lde4ljyymia2ljm4nywxni4yntigni4zodcsmtqumzq5iem2ljm4nywxmc4yntygos4zodmsni40otcgmtuumdiyldyundk3iemxos41ntusni40otcgmjmumdc4ldkunza1idizlja3ocwxmy45otegqzizlja3ocwxoc40njmgmjaumjm5ldiylja2miaxni4yotcsmjiumdyyiemxnc45nzmsmjiumdyyidezljcyocwyms4znzkgmtmumzayldiwlju3mibdmtmumzayldiwlju3miaxmi42ndcsmjmumdugmtiundg4ldizljy1nybdmtiumtkzldi0ljc4ncaxms4zotysmjyumtk2idewljg2mywyny4wntggqzeylja4niwyny40mzqgmtmumzg2ldi3ljyznyaxnc43mzmsmjcunjm3iemyms45nswyny42mzcgmjcuodaxldixljgyocayny44mdesmtqunjyyiemyny44mdesny40otugmjeuotusms42odygmtqunzmzldeunjg2iibmawxspsijymqwodfjij48l3bhdgg+pc9npjwvc3znpg==); background-size: 14px 14px; background-color: #bd081c; position: absolute; opacity: 1; z-index: 8675309; display: none; cursor: pointer; border: none; -webkit-font-smoothing: antialiased; background-position: 3px 50%; background-repeat: no-repeat no-repeat;">Bewaren
top-right-radius: 2px; border-bottom-right-radius: 2px; border-bottom-left-radius: 2px; text-indent: 20px; width: auto; padding: 0px 4px 0px 0px; text-align: center; font-style: normal; font-variant-caps: normal; font-weight: bold; font-stretch: normal; font-size: 11px; line-height: 20px; font-family: 'Helvetica Neue', Helvetica, sans-serif; color: #ffffff; background-image: url(data:image/svg+xml; base64,phn2zyb4bwxucz0iahr0cdovl3d3dy53my5vcmcvmjawmc9zdmciighlawdodd0imzbwecigd2lkdgg9ijmwchgiihzpzxdcb3g9ii0xic0xidmxidmxij48zz48cgf0acbkpsjnmjkundq5lde0ljy2mibdmjkundq5ldiyljcymiaymi44njgsmjkumju2ide0ljc1ldi5lji1nibdni42mzismjkumju2idaumduxldiyljcymiawlja1mswxnc42njigqzaumduxldyunjaxidyunjmyldaumdy3ide0ljc1ldaumdy3iemymi44njgsmc4wnjcgmjkundq5ldyunjaxidi5ljq0oswxnc42njiiigzpbgw9iinmzmyiihn0cm9rzt0ii2zmziigc3ryb2tllxdpzhropsixij48l3bhdgg+phbhdgggzd0itte0ljczmywxljy4nibdny41mtysms42odygms42njusny40otugms42njusmtqunjyyiemxljy2nswymc4xntkgns4xmdksmjquodu0idkuotcsmjyunzq0iem5ljg1niwyns43mtggos43ntmsmjqumtqzidewljaxniwymy4wmjigqzewlji1mywymi4wmsaxms41ndgsmtyuntcyidexlju0ocwxni41nzigqzexlju0ocwxni41nzigmteumtu3lde1ljc5nsaxms4xntcsmtqunjq2iemxms4xntcsmtiuodqyideyljixmswxms40otugmtmuntiyldexljq5nsbdmtqunjm3ldexljq5nsaxns4xnzusmtiumzi2ide1lje3nswxmy4zmjmgqze1lje3nswxnc40mzygmtqundyylde2ljegmtqumdkzlde3ljy0mybdmtmunzg1lde4ljkznsaxnc43ndusmtkuotg4ide2ljayocwxos45odggqze4ljm1mswxos45odggmjaumtm2lde3lju1niaymc4xmzysmtqumdq2iemymc4xmzysmtauotm5ide3ljg4ocw4ljc2nyaxnc42nzgsoc43njcgqzewljk1osw4ljc2nya4ljc3nywxms41mzygoc43nzcsmtqumzk4iem4ljc3nywxns41mtmgos4ymswxni43mdkgos43ndksmtcumzu5iem5ljg1niwxny40odggos44nzismtcunia5ljg0lde3ljczmsbdos43ndesmtgumtqxidkuntismtkumdizidkundc3lde5ljiwmybdos40miwxos40nca5lji4ocwxos40otegos4wncwxos4znzygqzcunda4lde4ljyymia2ljm4nywxni4yntigni4zodcsmtqumzq5iem2ljm4nywxmc4yntygos4zodmsni40otcgmtuumdiyldyundk3iemxos41ntusni40otcgmjmumdc4ldkunza1idizlja3ocwxmy45otegqzizlja3ocwxoc40njmgmjaumjm5ldiylja2miaxni4yotcsmjiumdyyiemxnc45nzmsmjiumdyyidezljcyocwyms4znzkgmtmumzayldiwlju3mibdmtmumzayldiwlju3miaxmi42ndcsmjmumdugmtiundg4ldizljy1nybdmtiumtkzldi0ljc4ncaxms4zotysmjyumtk2idewljg2mywyny4wntggqzeylja4niwyny40mzqgmtmumzg2ldi3ljyznyaxnc43mzmsmjcunjm3iemyms45nswyny42mzcgmjcuodaxldixljgyocayny44mdesmtqunjyyiemyny44mdesny40otugmjeuotusms42odygmtqunzmzldeunjg2iibmawxspsijymqwodfjij48l3bhdgg+pc9npjwvc3znpg==); background-size: 14px 14px; background-color: #bd081c; position: absolute; opacity: 1; z-index: 8675309; display: none; cursor: pointer; border: none; -webkit-font-smoothing: antialiased; top: 240px; left: 20px; background-position: 3px 50%; background-repeat: no-repeat no-repeat;">Bewarentop-right-radius: 2px; border-bottom-right-radius: 2px; border-bottom-left-radius: 2px; text-indent: 20px; width: auto; padding: 0px 4px 0px 0px; text-align: center; font-style: normal; font-variant-caps: normal; font-weight: bold; font-stretch: normal; font-size: 11px; line-height: 20px; font-family: 'Helvetica Neue', Helvetica, sans-serif; color: #ffffff; background-image: url(data:image/svg+xml; base64,phn2zyb4bwxucz0iahr0cdovl3d3dy53my5vcmcvmjawmc9zdmciighlawdodd0imzbwecigd2lkdgg9ijmwchgiihzpzxdcb3g9ii0xic0xidmxidmxij48zz48cgf0acbkpsjnmjkundq5lde0ljy2mibdmjkundq5ldiyljcymiaymi44njgsmjkumju2ide0ljc1ldi5lji1nibdni42mzismjkumju2idaumduxldiyljcymiawlja1mswxnc42njigqzaumduxldyunjaxidyunjmyldaumdy3ide0ljc1ldaumdy3iemymi44njgsmc4wnjcgmjkundq5ldyunjaxidi5ljq0oswxnc42njiiigzpbgw9iinmzmyiihn0cm9rzt0ii2zmziigc3ryb2tllxdpzhropsixij48l3bhdgg+phbhdgggzd0itte0ljczmywxljy4nibdny41mtysms42odygms42njusny40otugms42njusmtqunjyyiemxljy2nswymc4xntkgns4xmdksmjquodu0idkuotcsmjyunzq0iem5ljg1niwyns43mtggos43ntmsmjqumtqzidewljaxniwymy4wmjigqzewlji1mywymi4wmsaxms41ndgsmtyuntcyidexlju0ocwxni41nzigqzexlju0ocwxni41nzigmteumtu3lde1ljc5nsaxms4xntcsmtqunjq2iemxms4xntcsmtiuodqyideyljixmswxms40otugmtmuntiyldexljq5nsbdmtqunjm3ldexljq5nsaxns4xnzusmtiumzi2ide1lje3nswxmy4zmjmgqze1lje3nswxnc40mzygmtqundyylde2ljegmtqumdkzlde3ljy0mybdmtmunzg1lde4ljkznsaxnc43ndusmtkuotg4ide2ljayocwxos45odggqze4ljm1mswxos45odggmjaumtm2lde3lju1niaymc4xmzysmtqumdq2iemymc4xmzysmtauotm5ide3ljg4ocw4ljc2nyaxnc42nzgsoc43njcgqzewljk1osw4ljc2nya4ljc3nywxms41mzygoc43nzcsmtqumzk4iem4ljc3nywxns41mtmgos4ymswxni43mdkgos43ndksmtcumzu5iem5ljg1niwxny40odggos44nzismtcunia5ljg0lde3ljczmsbdos43ndesmtgumtqxidkuntismtkumdizidkundc3lde5ljiwmybdos40miwxos40nca5lji4ocwxos40otegos4wncwxos4znzygqzcunda4lde4ljyymia2ljm4nywxni4yntigni4zodcsmtqumzq5iem2ljm4nywxmc4yntygos4zodmsni40otcgmtuumdiyldyundk3iemxos41ntusni40otcgmjmumdc4ldkunza1idizlja3ocwxmy45otegqzizlja3ocwxoc40njmgmjaumjm5ldiylja2miaxni4yotcsmjiumdyyiemxnc45nzmsmjiumdyyidezljcyocwyms4znzkgmtmumzayldiwlju3mibdmtmumzayldiwlju3miaxmi42ndcsmjmumdugmtiundg4ldizljy1nybdmtiumtkzldi0ljc4ncaxms4zotysmjyumtk2idewljg2mywyny4wntggqzeylja4niwyny40mzqgmtmumzg2ldi3ljyznyaxnc43mzmsmjcunjm3iemyms45nswyny42mzcgmjcuodaxldixljgyocayny44mdesmtqunjyyiemyny44mdesny40otugmjeuotusms42odygmtqunzmzldeunjg2iibmawxspsijymqwodfjij48l3bhdgg+pc9npjwvc3znpg==); background-size: 14px 14px; background-color: #bd081c; position: absolute; opacity: 1; z-index: 8675309; display: none; cursor: pointer; border: none; -webkit-font-smoothing: antialiased; top: 240px; left: 20px; background-position: 3px 50%; background-repeat: no-repeat no-repeat;">Bewaren
top-right-radius: 2px; border-bottom-right-radius: 2px; border-bottom-left-radius: 2px; text-indent: 20px; width: auto; padding: 0px 4px 0px 0px; text-align: center; font-style: normal; font-variant-caps: normal; font-weight: bold; font-stretch: normal; font-size: 11px; line-height: 20px; font-family: 'Helvetica Neue', Helvetica, sans-serif; color: #ffffff; background-image: url(data:image/svg+xml; base64,phn2zyb4bwxucz0iahr0cdovl3d3dy53my5vcmcvmjawmc9zdmciighlawdodd0imzbwecigd2lkdgg9ijmwchgiihzpzxdcb3g9ii0xic0xidmxidmxij48zz48cgf0acbkpsjnmjkundq5lde0ljy2mibdmjkundq5ldiyljcymiaymi44njgsmjkumju2ide0ljc1ldi5lji1nibdni42mzismjkumju2idaumduxldiyljcymiawlja1mswxnc42njigqzaumduxldyunjaxidyunjmyldaumdy3ide0ljc1ldaumdy3iemymi44njgsmc4wnjcgmjkundq5ldyunjaxidi5ljq0oswxnc42njiiigzpbgw9iinmzmyiihn0cm9rzt0ii2zmziigc3ryb2tllxdpzhropsixij48l3bhdgg+phbhdgggzd0itte0ljczmywxljy4nibdny41mtysms42odygms42njusny40otugms42njusmtqunjyyiemxljy2nswymc4xntkgns4xmdksmjquodu0idkuotcsmjyunzq0iem5ljg1niwyns43mtggos43ntmsmjqumtqzidewljaxniwymy4wmjigqzewlji1mywymi4wmsaxms41ndgsmtyuntcyidexlju0ocwxni41nzigqzexlju0ocwxni41nzigmteumtu3lde1ljc5nsaxms4xntcsmtqunjq2iemxms4xntcsmtiuodqyideyljixmswxms40otugmtmuntiyldexljq5nsbdmtqunjm3ldexljq5nsaxns4xnzusmtiumzi2ide1lje3nswxmy4zmjmgqze1lje3nswxnc40mzygmtqundyylde2ljegmtqumdkzlde3ljy0mybdmtmunzg1lde4ljkznsaxnc43ndusmtkuotg4ide2ljayocwxos45odggqze4ljm1mswxos45odggmjaumtm2lde3lju1niaymc4xmzysmtqumdq2iemymc4xmzysmtauotm5ide3ljg4ocw4ljc2nyaxnc42nzgsoc43njcgqzewljk1osw4ljc2nya4ljc3nywxms41mzygoc43nzcsmtqumzk4iem4ljc3nywxns41mtmgos4ymswxni43mdkgos43ndksmtcumzu5iem5ljg1niwxny40odggos44nzismtcunia5ljg0lde3ljczmsbdos43ndesmtgumtqxidkuntismtkumdizidkundc3lde5ljiwmybdos40miwxos40nca5lji4ocwxos40otegos4wncwxos4znzygqzcunda4lde4ljyymia2ljm4nywxni4yntigni4zodcsmtqumzq5iem2ljm4nywxmc4yntygos4zodmsni40otcgmtuumdiyldyundk3iemxos41ntusni40otcgmjmumdc4ldkunza1idizlja3ocwxmy45otegqzizlja3ocwxoc40njmgmjaumjm5ldiylja2miaxni4yotcsmjiumdyyiemxnc45nzmsmjiumdyyidezljcyocwyms4znzkgmtmumzayldiwlju3mibdmtmumzayldiwlju3miaxmi42ndcsmjmumdugmtiundg4ldizljy1nybdmtiumtkzldi0ljc4ncaxms4zotysmjyumtk2idewljg2mywyny4wntggqzeylja4niwyny40mzqgmtmumzg2ldi3ljyznyaxnc43mzmsmjcunjm3iemyms45nswyny42mzcgmjcuodaxldixljgyocayny44mdesmtqunjyyiemyny44mdesny40otugmjeuotusms42odygmtqunzmzldeunjg2iibmawxspsijymqwodfjij48l3bhdgg+pc9npjwvc3znpg==); background-size: 14px 14px; background-color: #bd081c; position: absolute; opacity: 1; z-index: 8675309; display: none; cursor: pointer; border: none; -webkit-font-smoothing: antialiased; background-position: 3px 50%; background-repeat: no-repeat no-repeat;">Bewarentop-right-radius: 2px; border-bottom-right-radius: 2px; border-bottom-left-radius: 2px; text-indent: 20px; width: auto; padding: 0px 4px 0px 0px; text-align: center; font-style: normal; font-variant-caps: normal; font-weight: bold; font-stretch: normal; font-size: 11px; line-height: 20px; font-family: 'Helvetica Neue', Helvetica, sans-serif; color: #ffffff; background-image: url(data:image/svg+xml; base64,phn2zyb4bwxucz0iahr0cdovl3d3dy53my5vcmcvmjawmc9zdmciighlawdodd0imzbwecigd2lkdgg9ijmwchgiihzpzxdcb3g9ii0xic0xidmxidmxij48zz48cgf0acbkpsjnmjkundq5lde0ljy2mibdmjkundq5ldiyljcymiaymi44njgsmjkumju2ide0ljc1ldi5lji1nibdni42mzismjkumju2idaumduxldiyljcymiawlja1mswxnc42njigqzaumduxldyunjaxidyunjmyldaumdy3ide0ljc1ldaumdy3iemymi44njgsmc4wnjcgmjkundq5ldyunjaxidi5ljq0oswxnc42njiiigzpbgw9iinmzmyiihn0cm9rzt0ii2zmziigc3ryb2tllxdpzhropsixij48l3bhdgg+phbhdgggzd0itte0ljczmywxljy4nibdny41mtysms42odygms42njusny40otugms42njusmtqunjyyiemxljy2nswymc4xntkgns4xmdksmjquodu0idkuotcsmjyunzq0iem5ljg1niwyns43mtggos43ntmsmjqumtqzidewljaxniwymy4wmjigqzewlji1mywymi4wmsaxms41ndgsmtyuntcyidexlju0ocwxni41nzigqzexlju0ocwxni41nzigmteumtu3lde1ljc5nsaxms4xntcsmtqunjq2iemxms4xntcsmtiuodqyideyljixmswxms40otugmtmuntiyldexljq5nsbdmtqunjm3ldexljq5nsaxns4xnzusmtiumzi2ide1lje3nswxmy4zmjmgqze1lje3nswxnc40mzygmtqundyylde2ljegmtqumdkzlde3ljy0mybdmtmunzg1lde4ljkznsaxnc43ndusmtkuotg4ide2ljayocwxos45odggqze4ljm1mswxos45odggmjaumtm2lde3lju1niaymc4xmzysmtqumdq2iemymc4xmzysmtauotm5ide3ljg4ocw4ljc2nyaxnc42nzgsoc43njcgqzewljk1osw4ljc2nya4ljc3nywxms41mzygoc43nzcsmtqumzk4iem4ljc3nywxns41mtmgos4ymswxni43mdkgos43ndksmtcumzu5iem5ljg1niwxny40odggos44nzismtcunia5ljg0lde3ljczmsbdos43ndesmtgumtqxidkuntismtkumdizidkundc3lde5ljiwmybdos40miwxos40nca5lji4ocwxos40otegos4wncwxos4znzygqzcunda4lde4ljyymia2ljm4nywxni4yntigni4zodcsmtqumzq5iem2ljm4nywxmc4yntygos4zodmsni40otcgmtuumdiyldyundk3iemxos41ntusni40otcgmjmumdc4ldkunza1idizlja3ocwxmy45otegqzizlja3ocwxoc40njmgmjaumjm5ldiylja2miaxni4yotcsmjiumdyyiemxnc45nzmsmjiumdyyidezljcyocwyms4znzkgmtmumzayldiwlju3mibdmtmumzayldiwlju3miaxmi42ndcsmjmumdugmtiundg4ldizljy1nybdmtiumtkzldi0ljc4ncaxms4zotysmjyumtk2idewljg2mywyny4wntggqzeylja4niwyny40mzqgmtmumzg2ldi3ljyznyaxnc43mzmsmjcunjm3iemyms45nswyny42mzcgmjcuodaxldixljgyocayny44mdesmtqunjyyiemyny44mdesny40otugmjeuotusms42odygmtqunzmzldeunjg2iibmawxspsijymqwodfjij48l3bhdgg+pc9npjwvc3znpg==); background-size: 14px 14px; background-color: #bd081c; position: absolute; opacity: 1; z-index: 8675309; display: none; cursor: pointer; border: none; -webkit-font-smoothing: antialiased; background-position: 3px 50%; background-repeat: no-repeat no-repeat;">Bewaren
top-right-radius: 2px; border-bottom-right-radius: 2px; border-bottom-left-radius: 2px; text-indent: 20px; width: auto; padding: 0px 4px 0px 0px; text-align: center; font-style: normal; font-variant-caps: normal; font-weight: bold; font-stretch: normal; font-size: 11px; line-height: 20px; font-family: 'Helvetica Neue', Helvetica, sans-serif; color: #ffffff; background-image: url(data:image/svg+xml; base64,phn2zyb4bwxucz0iahr0cdovl3d3dy53my5vcmcvmjawmc9zdmciighlawdodd0imzbwecigd2lkdgg9ijmwchgiihzpzxdcb3g9ii0xic0xidmxidmxij48zz48cgf0acbkpsjnmjkundq5lde0ljy2mibdmjkundq5ldiyljcymiaymi44njgsmjkumju2ide0ljc1ldi5lji1nibdni42mzismjkumju2idaumduxldiyljcymiawlja1mswxnc42njigqzaumduxldyunjaxidyunjmyldaumdy3ide0ljc1ldaumdy3iemymi44njgsmc4wnjcgmjkundq5ldyunjaxidi5ljq0oswxnc42njiiigzpbgw9iinmzmyiihn0cm9rzt0ii2zmziigc3ryb2tllxdpzhropsixij48l3bhdgg+phbhdgggzd0itte0ljczmywxljy4nibdny41mtysms42odygms42njusny40otugms42njusmtqunjyyiemxljy2nswymc4xntkgns4xmdksmjquodu0idkuotcsmjyunzq0iem5ljg1niwyns43mtggos43ntmsmjqumtqzidewljaxniwymy4wmjigqzewlji1mywymi4wmsaxms41ndgsmtyuntcyidexlju0ocwxni41nzigqzexlju0ocwxni41nzigmteumtu3lde1ljc5nsaxms4xntcsmtqunjq2iemxms4xntcsmtiuodqyideyljixmswxms40otugmtmuntiyldexljq5nsbdmtqunjm3ldexljq5nsaxns4xnzusmtiumzi2ide1lje3nswxmy4zmjmgqze1lje3nswxnc40mzygmtqundyylde2ljegmtqumdkzlde3ljy0mybdmtmunzg1lde4ljkznsaxnc43ndusmtkuotg4ide2ljayocwxos45odggqze4ljm1mswxos45odggmjaumtm2lde3lju1niaymc4xmzysmtqumdq2iemymc4xmzysmtauotm5ide3ljg4ocw4ljc2nyaxnc42nzgsoc43njcgqzewljk1osw4ljc2nya4ljc3nywxms41mzygoc43nzcsmtqumzk4iem4ljc3nywxns41mtmgos4ymswxni43mdkgos43ndksmtcumzu5iem5ljg1niwxny40odggos44nzismtcunia5ljg0lde3ljczmsbdos43ndesmtgumtqxidkuntismtkumdizidkundc3lde5ljiwmybdos40miwxos40nca5lji4ocwxos40otegos4wncwxos4znzygqzcunda4lde4ljyymia2ljm4nywxni4yntigni4zodcsmtqumzq5iem2ljm4nywxmc4yntygos4zodmsni40otcgmtuumdiyldyundk3iemxos41ntusni40otcgmjmumdc4ldkunza1idizlja3ocwxmy45otegqzizlja3ocwxoc40njmgmjaumjm5ldiylja2miaxni4yotcsmjiumdyyiemxnc45nzmsmjiumdyyidezljcyocwyms4znzkgmtmumzayldiwlju3mibdmtmumzayldiwlju3miaxmi42ndcsmjmumdugmtiundg4ldizljy1nybdmtiumtkzldi0ljc4ncaxms4zotysmjyumtk2idewljg2mywyny4wntggqzeylja4niwyny40mzqgmtmumzg2ldi3ljyznyaxnc43mzmsmjcunjm3iemyms45nswyny42mzcgmjcuodaxldixljgyocayny44mdesmtqunjyyiemyny44mdesny40otugmjeuotusms42odygmtqunzmzldeunjg2iibmawxspsijymqwodfjij48l3bhdgg+pc9npjwvc3znpg==); background-size: 14px 14px; background-color: #bd081c; position: absolute; opacity: 1; z-index: 8675309; display: none; cursor: pointer; border: none; -webkit-font-smoothing: antialiased; background-position: 3px 50%; background-repeat: no-repeat no-repeat;">Bewarentop-right-radius: 2px; border-bottom-right-radius: 2px; border-bottom-left-radius: 2px; text-indent: 20px; width: auto; padding: 0px 4px 0px 0px; text-align: center; font-style: normal; font-variant-caps: normal; font-weight: bold; font-stretch: normal; font-size: 11px; line-height: 20px; font-family: 'Helvetica Neue', Helvetica, sans-serif; color: #ffffff; background-image: url(data:image/svg+xml; base64,phn2zyb4bwxucz0iahr0cdovl3d3dy53my5vcmcvmjawmc9zdmciighlawdodd0imzbwecigd2lkdgg9ijmwchgiihzpzxdcb3g9ii0xic0xidmxidmxij48zz48cgf0acbkpsjnmjkundq5lde0ljy2mibdmjkundq5ldiyljcymiaymi44njgsmjkumju2ide0ljc1ldi5lji1nibdni42mzismjkumju2idaumduxldiyljcymiawlja1mswxnc42njigqzaumduxldyunjaxidyunjmyldaumdy3ide0ljc1ldaumdy3iemymi44njgsmc4wnjcgmjkundq5ldyunjaxidi5ljq0oswxnc42njiiigzpbgw9iinmzmyiihn0cm9rzt0ii2zmziigc3ryb2tllxdpzhropsixij48l3bhdgg+phbhdgggzd0itte0ljczmywxljy4nibdny41mtysms42odygms42njusny40otugms42njusmtqunjyyiemxljy2nswymc4xntkgns4xmdksmjquodu0idkuotcsmjyunzq0iem5ljg1niwyns43mtggos43ntmsmjqumtqzidewljaxniwymy4wmjigqzewlji1mywymi4wmsaxms41ndgsmtyuntcyidexlju0ocwxni41nzigqzexlju0ocwxni41nzigmteumtu3lde1ljc5nsaxms4xntcsmtqunjq2iemxms4xntcsmtiuodqyideyljixmswxms40otugmtmuntiyldexljq5nsbdmtqunjm3ldexljq5nsaxns4xnzusmtiumzi2ide1lje3nswxmy4zmjmgqze1lje3nswxnc40mzygmtqundyylde2ljegmtqumdkzlde3ljy0mybdmtmunzg1lde4ljkznsaxnc43ndusmtkuotg4ide2ljayocwxos45odggqze4ljm1mswxos45odggmjaumtm2lde3lju1niaymc4xmzysmtqumdq2iemymc4xmzysmtauotm5ide3ljg4ocw4ljc2nyaxnc42nzgsoc43njcgqzewljk1osw4ljc2nya4ljc3nywxms41mzygoc43nzcsmtqumzk4iem4ljc3nywxns41mtmgos4ymswxni43mdkgos43ndksmtcumzu5iem5ljg1niwxny40odggos44nzismtcunia5ljg0lde3ljczmsbdos43ndesmtgumtqxidkuntismtkumdizidkundc3lde5ljiwmybdos40miwxos40nca5lji4ocwxos40otegos4wncwxos4znzygqzcunda4lde4ljyymia2ljm4nywxni4yntigni4zodcsmtqumzq5iem2ljm4nywxmc4yntygos4zodmsni40otcgmtuumdiyldyundk3iemxos41ntusni40otcgmjmumdc4ldkunza1idizlja3ocwxmy45otegqzizlja3ocwxoc40njmgmjaumjm5ldiylja2miaxni4yotcsmjiumdyyiemxnc45nzmsmjiumdyyidezljcyocwyms4znzkgmtmumzayldiwlju3mibdmtmumzayldiwlju3miaxmi42ndcsmjmumdugmtiundg4ldizljy1nybdmtiumtkzldi0ljc4ncaxms4zotysmjyumtk2idewljg2mywyny4wntggqzeylja4niwyny40mzqgmtmumzg2ldi3ljyznyaxnc43mzmsmjcunjm3iemyms45nswyny42mzcgmjcuodaxldixljgyocayny44mdesmtqunjyyiemyny44mdesny40otugmjeuotusms42odygmtqunzmzldeunjg2iibmawxspsijymqwodfjij48l3bhdgg+pc9npjwvc3znpg==); background-size: 14px 14px; background-color: #bd081c; position: absolute; opacity: 1; z-index: 8675309; display: none; cursor: pointer; border: none; -webkit-font-smoothing: antialiased; background-position: 3px 50%; background-repeat: no-repeat no-repeat;">Bewaren
top-right-radius: 2px; border-bottom-right-radius: 2px; border-bottom-left-radius: 2px; text-indent: 20px; width: auto; padding: 0px 4px 0px 0px; text-align: center; font-style: normal; font-variant-caps: normal; font-weight: bold; font-stretch: normal; font-size: 11px; line-height: 20px; font-family: 'Helvetica Neue', Helvetica, sans-serif; color: #ffffff; background-image: url(data:image/svg+xml; base64,phn2zyb4bwxucz0iahr0cdovl3d3dy53my5vcmcvmjawmc9zdmciighlawdodd0imzbwecigd2lkdgg9ijmwchgiihzpzxdcb3g9ii0xic0xidmxidmxij48zz48cgf0acbkpsjnmjkundq5lde0ljy2mibdmjkundq5ldiyljcymiaymi44njgsmjkumju2ide0ljc1ldi5lji1nibdni42mzismjkumju2idaumduxldiyljcymiawlja1mswxnc42njigqzaumduxldyunjaxidyunjmyldaumdy3ide0ljc1ldaumdy3iemymi44njgsmc4wnjcgmjkundq5ldyunjaxidi5ljq0oswxnc42njiiigzpbgw9iinmzmyiihn0cm9rzt0ii2zmziigc3ryb2tllxdpzhropsixij48l3bhdgg+phbhdgggzd0itte0ljczmywxljy4nibdny41mtysms42odygms42njusny40otugms42njusmtqunjyyiemxljy2nswymc4xntkgns4xmdksmjquodu0idkuotcsmjyunzq0iem5ljg1niwyns43mtggos43ntmsmjqumtqzidewljaxniwymy4wmjigqzewlji1mywymi4wmsaxms41ndgsmtyuntcyidexlju0ocwxni41nzigqzexlju0ocwxni41nzigmteumtu3lde1ljc5nsaxms4xntcsmtqunjq2iemxms4xntcsmtiuodqyideyljixmswxms40otugmtmuntiyldexljq5nsbdmtqunjm3ldexljq5nsaxns4xnzusmtiumzi2ide1lje3nswxmy4zmjmgqze1lje3nswxnc40mzygmtqundyylde2ljegmtqumdkzlde3ljy0mybdmtmunzg1lde4ljkznsaxnc43ndusmtkuotg4ide2ljayocwxos45odggqze4ljm1mswxos45odggmjaumtm2lde3lju1niaymc4xmzysmtqumdq2iemymc4xmzysmtauotm5ide3ljg4ocw4ljc2nyaxnc42nzgsoc43njcgqzewljk1osw4ljc2nya4ljc3nywxms41mzygoc43nzcsmtqumzk4iem4ljc3nywxns41mtmgos4ymswxni43mdkgos43ndksmtcumzu5iem5ljg1niwxny40odggos44nzismtcunia5ljg0lde3ljczmsbdos43ndesmtgumtqxidkuntismtkumdizidkundc3lde5ljiwmybdos40miwxos40nca5lji4ocwxos40otegos4wncwxos4znzygqzcunda4lde4ljyymia2ljm4nywxni4yntigni4zodcsmtqumzq5iem2ljm4nywxmc4yntygos4zodmsni40otcgmtuumdiyldyundk3iemxos41ntusni40otcgmjmumdc4ldkunza1idizlja3ocwxmy45otegqzizlja3ocwxoc40njmgmjaumjm5ldiylja2miaxni4yotcsmjiumdyyiemxnc45nzmsmjiumdyyidezljcyocwyms4znzkgmtmumzayldiwlju3mibdmtmumzayldiwlju3miaxmi42ndcsmjmumdugmtiundg4ldizljy1nybdmtiumtkzldi0ljc4ncaxms4zotysmjyumtk2idewljg2mywyny4wntggqzeylja4niwyny40mzqgmtmumzg2ldi3ljyznyaxnc43mzmsmjcunjm3iemyms45nswyny42mzcgmjcuodaxldixljgyocayny44mdesmtqunjyyiemyny44mdesny40otugmjeuotusms42odygmtqunzmzldeunjg2iibmawxspsijymqwodfjij48l3bhdgg+pc9npjwvc3znpg==); background-size: 14px 14px; background-color: #bd081c; position: absolute; opacity: 1; z-index: 8675309; display: none; cursor: pointer; border: none; -webkit-font-smoothing: antialiased; background-position: 3px 50%; background-repeat: no-repeat no-repeat;">Bewarentop-right-radius: 2px; border-bottom-right-radius: 2px; border-bottom-left-radius: 2px; text-indent: 20px; width: auto; padding: 0px 4px 0px 0px; text-align: center; font-style: normal; font-variant-caps: normal; font-weight: bold; font-stretch: normal; font-size: 11px; line-height: 20px; font-family: 'Helvetica Neue', Helvetica, sans-serif; color: #ffffff; background-image: url(data:image/svg+xml; base64,phn2zyb4bwxucz0iahr0cdovl3d3dy53my5vcmcvmjawmc9zdmciighlawdodd0imzbwecigd2lkdgg9ijmwchgiihzpzxdcb3g9ii0xic0xidmxidmxij48zz48cgf0acbkpsjnmjkundq5lde0ljy2mibdmjkundq5ldiyljcymiaymi44njgsmjkumju2ide0ljc1ldi5lji1nibdni42mzismjkumju2idaumduxldiyljcymiawlja1mswxnc42njigqzaumduxldyunjaxidyunjmyldaumdy3ide0ljc1ldaumdy3iemymi44njgsmc4wnjcgmjkundq5ldyunjaxidi5ljq0oswxnc42njiiigzpbgw9iinmzmyiihn0cm9rzt0ii2zmziigc3ryb2tllxdpzhropsixij48l3bhdgg+phbhdgggzd0itte0ljczmywxljy4nibdny41mtysms42odygms42njusny40otugms42njusmtqunjyyiemxljy2nswymc4xntkgns4xmdksmjquodu0idkuotcsmjyunzq0iem5ljg1niwyns43mtggos43ntmsmjqumtqzidewljaxniwymy4wmjigqzewlji1mywymi4wmsaxms41ndgsmtyuntcyidexlju0ocwxni41nzigqzexlju0ocwxni41nzigmteumtu3lde1ljc5nsaxms4xntcsmtqunjq2iemxms4xntcsmtiuodqyideyljixmswxms40otugmtmuntiyldexljq5nsbdmtqunjm3ldexljq5nsaxns4xnzusmtiumzi2ide1lje3nswxmy4zmjmgqze1lje3nswxnc40mzygmtqundyylde2ljegmtqumdkzlde3ljy0mybdmtmunzg1lde4ljkznsaxnc43ndusmtkuotg4ide2ljayocwxos45odggqze4ljm1mswxos45odggmjaumtm2lde3lju1niaymc4xmzysmtqumdq2iemymc4xmzysmtauotm5ide3ljg4ocw4ljc2nyaxnc42nzgsoc43njcgqzewljk1osw4ljc2nya4ljc3nywxms41mzygoc43nzcsmtqumzk4iem4ljc3nywxns41mtmgos4ymswxni43mdkgos43ndksmtcumzu5iem5ljg1niwxny40odggos44nzismtcunia5ljg0lde3ljczmsbdos43ndesmtgumtqxidkuntismtkumdizidkundc3lde5ljiwmybdos40miwxos40nca5lji4ocwxos40otegos4wncwxos4znzygqzcunda4lde4ljyymia2ljm4nywxni4yntigni4zodcsmtqumzq5iem2ljm4nywxmc4yntygos4zodmsni40otcgmtuumdiyldyundk3iemxos41ntusni40otcgmjmumdc4ldkunza1idizlja3ocwxmy45otegqzizlja3ocwxoc40njmgmjaumjm5ldiylja2miaxni4yotcsmjiumdyyiemxnc45nzmsmjiumdyyidezljcyocwyms4znzkgmtmumzayldiwlju3mibdmtmumzayldiwlju3miaxmi42ndcsmjmumdugmtiundg4ldizljy1nybdmtiumtkzldi0ljc4ncaxms4zotysmjyumtk2idewljg2mywyny4wntggqzeylja4niwyny40mzqgmtmumzg2ldi3ljyznyaxnc43mzmsmjcunjm3iemyms45nswyny42mzcgmjcuodaxldixljgyocayny44mdesmtqunjyyiemyny44mdesny40otugmjeuotusms42odygmtqunzmzldeunjg2iibmawxspsijymqwodfjij48l3bhdgg+pc9npjwvc3znpg==); background-size: 14px 14px; background-color: #bd081c; position: absolute; opacity: 1; z-index: 8675309; display: none; cursor: pointer; border: none; -webkit-font-smoothing: antialiased; background-position: 3px 50%; background-repeat: no-repeat no-repeat;">Bewaren
top-right-radius: 2px; border-bottom-right-radius: 2px; border-bottom-left-radius: 2px; text-indent: 20px; width: auto; padding: 0px 4px 0px 0px; text-align: center; font-style: normal; font-variant-caps: normal; font-weight: bold; font-stretch: normal; font-size: 11px; line-height: 20px; font-family: 'Helvetica Neue', Helvetica, sans-serif; color: #ffffff; background-image: url(data:image/svg+xml; base64,phn2zyb4bwxucz0iahr0cdovl3d3dy53my5vcmcvmjawmc9zdmciighlawdodd0imzbwecigd2lkdgg9ijmwchgiihzpzxdcb3g9ii0xic0xidmxidmxij48zz48cgf0acbkpsjnmjkundq5lde0ljy2mibdmjkundq5ldiyljcymiaymi44njgsmjkumju2ide0ljc1ldi5lji1nibdni42mzismjkumju2idaumduxldiyljcymiawlja1mswxnc42njigqzaumduxldyunjaxidyunjmyldaumdy3ide0ljc1ldaumdy3iemymi44njgsmc4wnjcgmjkundq5ldyunjaxidi5ljq0oswxnc42njiiigzpbgw9iinmzmyiihn0cm9rzt0ii2zmziigc3ryb2tllxdpzhropsixij48l3bhdgg+phbhdgggzd0itte0ljczmywxljy4nibdny41mtysms42odygms42njusny40otugms42njusmtqunjyyiemxljy2nswymc4xntkgns4xmdksmjquodu0idkuotcsmjyunzq0iem5ljg1niwyns43mtggos43ntmsmjqumtqzidewljaxniwymy4wmjigqzewlji1mywymi4wmsaxms41ndgsmtyuntcyidexlju0ocwxni41nzigqzexlju0ocwxni41nzigmteumtu3lde1ljc5nsaxms4xntcsmtqunjq2iemxms4xntcsmtiuodqyideyljixmswxms40otugmtmuntiyldexljq5nsbdmtqunjm3ldexljq5nsaxns4xnzusmtiumzi2ide1lje3nswxmy4zmjmgqze1lje3nswxnc40mzygmtqundyylde2ljegmtqumdkzlde3ljy0mybdmtmunzg1lde4ljkznsaxnc43ndusmtkuotg4ide2ljayocwxos45odggqze4ljm1mswxos45odggmjaumtm2lde3lju1niaymc4xmzysmtqumdq2iemymc4xmzysmtauotm5ide3ljg4ocw4ljc2nyaxnc42nzgsoc43njcgqzewljk1osw4ljc2nya4ljc3nywxms41mzygoc43nzcsmtqumzk4iem4ljc3nywxns41mtmgos4ymswxni43mdkgos43ndksmtcumzu5iem5ljg1niwxny40odggos44nzismtcunia5ljg0lde3ljczmsbdos43ndesmtgumtqxidkuntismtkumdizidkundc3lde5ljiwmybdos40miwxos40nca5lji4ocwxos40otegos4wncwxos4znzygqzcunda4lde4ljyymia2ljm4nywxni4yntigni4zodcsmtqumzq5iem2ljm4nywxmc4yntygos4zodmsni40otcgmtuumdiyldyundk3iemxos41ntusni40otcgmjmumdc4ldkunza1idizlja3ocwxmy45otegqzizlja3ocwxoc40njmgmjaumjm5ldiylja2miaxni4yotcsmjiumdyyiemxnc45nzmsmjiumdyyidezljcyocwyms4znzkgmtmumzayldiwlju3mibdmtmumzayldiwlju3miaxmi42ndcsmjmumdugmtiundg4ldizljy1nybdmtiumtkzldi0ljc4ncaxms4zotysmjyumtk2idewljg2mywyny4wntggqzeylja4niwyny40mzqgmtmumzg2ldi3ljyznyaxnc43mzmsmjcunjm3iemyms45nswyny42mzcgmjcuodaxldixljgyocayny44mdesmtqunjyyiemyny44mdesny40otugmjeuotusms42odygmtqunzmzldeunjg2iibmawxspsijymqwodfjij48l3bhdgg+pc9npjwvc3znpg==); background-size: 14px 14px; background-color: #bd081c; position: absolute; opacity: 1; z-index: 8675309; display: none; cursor: pointer; border: none; -webkit-font-smoothing: antialiased; background-position: 3px 50%; background-repeat: no-repeat no-repeat;">Bewarentop-right-radius: 2px; border-bottom-right-radius: 2px; border-bottom-left-radius: 2px; text-indent: 20px; width: auto; padding: 0px 4px 0px 0px; text-align: center; font-style: normal; font-variant-caps: normal; font-weight: bold; font-stretch: normal; font-size: 11px; line-height: 20px; font-family: 'Helvetica Neue', Helvetica, sans-serif; color: #ffffff; background-image: url(data:image/svg+xml; base64,phn2zyb4bwxucz0iahr0cdovl3d3dy53my5vcmcvmjawmc9zdmciighlawdodd0imzbwecigd2lkdgg9ijmwchgiihzpzxdcb3g9ii0xic0xidmxidmxij48zz48cgf0acbkpsjnmjkundq5lde0ljy2mibdmjkundq5ldiyljcymiaymi44njgsmjkumju2ide0ljc1ldi5lji1nibdni42mzismjkumju2idaumduxldiyljcymiawlja1mswxnc42njigqzaumduxldyunjaxidyunjmyldaumdy3ide0ljc1ldaumdy3iemymi44njgsmc4wnjcgmjkundq5ldyunjaxidi5ljq0oswxnc42njiiigzpbgw9iinmzmyiihn0cm9rzt0ii2zmziigc3ryb2tllxdpzhropsixij48l3bhdgg+phbhdgggzd0itte0ljczmywxljy4nibdny41mtysms42odygms42njusny40otugms42njusmtqunjyyiemxljy2nswymc4xntkgns4xmdksmjquodu0idkuotcsmjyunzq0iem5ljg1niwyns43mtggos43ntmsmjqumtqzidewljaxniwymy4wmjigqzewlji1mywymi4wmsaxms41ndgsmtyuntcyidexlju0ocwxni41nzigqzexlju0ocwxni41nzigmteumtu3lde1ljc5nsaxms4xntcsmtqunjq2iemxms4xntcsmtiuodqyideyljixmswxms40otugmtmuntiyldexljq5nsbdmtqunjm3ldexljq5nsaxns4xnzusmtiumzi2ide1lje3nswxmy4zmjmgqze1lje3nswxnc40mzygmtqundyylde2ljegmtqumdkzlde3ljy0mybdmtmunzg1lde4ljkznsaxnc43ndusmtkuotg4ide2ljayocwxos45odggqze4ljm1mswxos45odggmjaumtm2lde3lju1niaymc4xmzysmtqumdq2iemymc4xmzysmtauotm5ide3ljg4ocw4ljc2nyaxnc42nzgsoc43njcgqzewljk1osw4ljc2nya4ljc3nywxms41mzygoc43nzcsmtqumzk4iem4ljc3nywxns41mtmgos4ymswxni43mdkgos43ndksmtcumzu5iem5ljg1niwxny40odggos44nzismtcunia5ljg0lde3ljczmsbdos43ndesmtgumtqxidkuntismtkumdizidkundc3lde5ljiwmybdos40miwxos40nca5lji4ocwxos40otegos4wncwxos4znzygqzcunda4lde4ljyymia2ljm4nywxni4yntigni4zodcsmtqumzq5iem2ljm4nywxmc4yntygos4zodmsni40otcgmtuumdiyldyundk3iemxos41ntusni40otcgmjmumdc4ldkunza1idizlja3ocwxmy45otegqzizlja3ocwxoc40njmgmjaumjm5ldiylja2miaxni4yotcsmjiumdyyiemxnc45nzmsmjiumdyyidezljcyocwyms4znzkgmtmumzayldiwlju3mibdmtmumzayldiwlju3miaxmi42ndcsmjmumdugmtiundg4ldizljy1nybdmtiumtkzldi0ljc4ncaxms4zotysmjyumtk2idewljg2mywyny4wntggqzeylja4niwyny40mzqgmtmumzg2ldi3ljyznyaxnc43mzmsmjcunjm3iemyms45nswyny42mzcgmjcuodaxldixljgyocayny44mdesmtqunjyyiemyny44mdesny40otugmjeuotusms42odygmtqunzmzldeunjg2iibmawxspsijymqwodfjij48l3bhdgg+pc9npjwvc3znpg==); background-size: 14px 14px; background-color: #bd081c; position: absolute; opacity: 1; z-index: 8675309; display: none; cursor: pointer; border: none; -webkit-font-smoothing: antialiased; background-position: 3px 50%; background-repeat: no-repeat no-repeat;">Bewaren